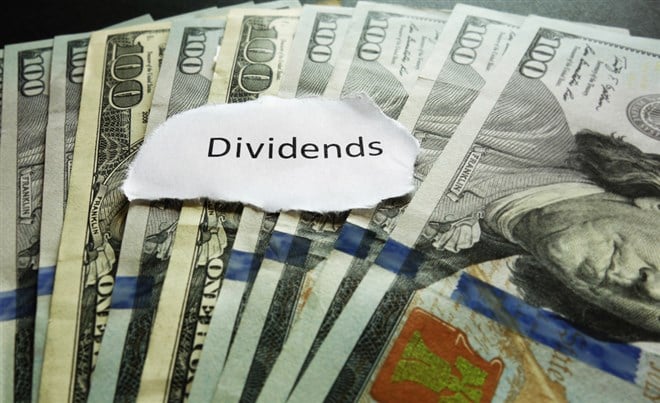 When you're ready to say, "Tag, you're it!" and let dividend stocks take over your portfolio, you naturally want to gravitate toward A+ companies. Luckily, you don't need to look much further than great stocks that have returned significant dividend returns over time, such as the Dividend Kings and Dividend Aristocrats.
Let's take a look at the best dividend stocks of all time and explore the benefits and downsides of dividend stocks. Here's a sneak peek: Dividend-paying stocks offer inroads against tumultuous markets, beat back inflation, offer tax advantages and more.
What Makes the Best Dividend Stocks?
The best dividend stocks offer definite advantages over other types of investments. The best dividend stocks can weather tumultuous market periods, hedge against inflation, are tax advantaged, offer long-term profitability and low debt. They are also sector leaders. Let's take a look at what you want to look out for before you invest.
Weather Tumultuous Market Periods
During topsy-turvy markets, dividend-paying stocks usually pay out dividends anyway. In good times and in bad, you can usually count on dividend-paying stocks to offer a return. For example, the Coca-Cola Company has paid a dividend every year since 1920. The stock price of the company has continually risen as well over time. Even if the stock may not do quite as well during a particular year, stockholders get paid during those down years.
Hedge Against Inflation
What is inflation? 
Put simply, inflation is an economic term defined by a general increase in prices and a decrease in the purchasing power of money. A quick example: the ability to buy a cup of coffee for a few cents in the early 20th century versus the cost of a cup of coffee today, which might cost over $3 in some cases.
In order to grow a healthy economy, a little inflation is normal. Inflation, however, can spiral out of control, and when it does, it can affect entire economies. Governments and central banks try to control inflation with regulations designed to minimize the effects of inflation. Dividend stocks can also help preserve purchasing power despite rising inflation.
Tax Advantaged
Dividends offer tax advantages, depending on whether they are qualified dividends or nonqualified dividends.
Qualified dividend tax rates are based on the capital gains tax rates at 0%, 15% or 20% and correlates with your personal filing status. To qualify for the qualified dividend rate, you must own a dividend stock for a particular amount of time: 60 days for common stock and 90 days for preferred stock.
If you hold your dividend stocks for a shorter period of time, you'll pay ordinary dividends, also called nonqualified dividends. This means they're taxed at your federal income tax bracket, which could go up to a tax rate up to 37%, depending on your tax bracket.
If you hold qualified dividends, you could benefit from tax advantages, but note that this works for all types of stocks, not just dividend payers.
Offer Long-Term Profitability
The benefit to holding dividend stocks is that they are profitable over the long term, not just when you sell them after holding them for a certain period of time. Dividend-paying companies usually pay out dividends consistently on an annual, quarterly, semiannual or monthly basis. They are usually companies that offer recurring and positive long-term performance. When considering companies to put in your portfolio, those that show consistent growth and healthy cash flow on an annual basis offer the most promise. 
Low Debt
U.S. corporate debt is currently at a high rate, but it's important to remember that companies that carry excess debt are more vulnerable to rising interest rates. Companies with more money in the bank can benefit, however. Balance sheets that signify low debt can be the better investment because it shows that companies haven't been putting funds solely toward paying off debt. Checking the debt-to-equity ratio of all companies helps determine which companies you should invest in.
Sector Leaders
The best dividend stocks are sector leaders. You can identify sectors that perform well based on comparing them to the overall market. Once you identify a sector that is doing well, you can identify which stocks perform well within that sector. The best dividend stocks have price appreciation and a good dividend yield. The dividend yield shows how much a company pays out in dividends relative to its stock price. Companies that pay out a much higher dividend than other companies in the sector could be a red flag, however. For example, a company may be sending out shaky signals if it's boasting a dividend yield of 15% dividend but every other company in the sector hovers around 5%. 
You can also take a look at the payout ratio to help identify sector leaders. The payout ratio tells you how much income goes toward company dividends. A too-high payout ratio (around 80%) means that a company might be putting too much of its income toward paying out dividends.
Look into all the underlying fundamentals and metrics before you choose individual dividend stocks for your portfolio.
6 Best Dividend Stocks of All Time
What are the best dividend stocks of all time? While it's impossible to list them all here, we've selected a handful of companies that can help you shore up your portfolio and set it up for dividend payers that take care of their shareholders in the best way possible — by offering consistent, ample dividends.
The Exxon Mobil Corporation, headquartered in Irving, Texas, explores and produces crude oil and natural gas in the United States and internationally. The company is also involved in the manufacture, trade, transport and sale of:
Crude oil
Natural gas
Petroleum products
Petrochemicals
Other specialty products
It also sells petrochemicals, including the following: 
Olefins
Polyolefins
Aromatics
Various other petrochemicals
It also captures and stores carbon, hydrogen and biofuels with over 20,000 net operated wells with proved reserves. 
The company has increased its dividend payment around 6% over the past 35 years. 
AbbVie, headquartered in North Chicago, is a research-based seller and developer of biopharmaceutical products. The company offers medicines to a wide variety of diseases, from HUMIRA, a therapy administered as an injection for autoimmune and intestinal Behçet's diseases to CREON, a pancreatic enzyme therapy for exocrine pancreatic insufficiency. The company offers treatment for rheumatology, gastroenterology, dermatology, oncology, virology, neurological disorders, metabolic diseases and other health conditions. 
AbbVie offers a reliable yield, with at least 25 consecutive years of dividend increases. 
Altria Group Inc., a Virginia-based company, manufactures and sells smokeable products, smokeless products and wine. Its cigarettes, including Marlboro cigarettes, Black & Mild pipe and cigar products and smokeless tobacco such as Copenhagen and Skoal, are manufactured and sold by PM USA. Large cigars and pipe tobacco manufactured and sold by Middleton. Its smokeless products are sold by or on behalf of USSTC and PM USA. It also produces Washington State wines, including Ste. Michelle and Columbia Crest. 
The company has had 50 dividend increases over the last 50 years, proving its commitment to shareholders and its long-term income potential. The company has looked beyond tobacco toward legal marijuana and Juul vaping products as well.
AT&T Inc., based in Dallas, operates telecommunications media and technology services throughout the United States as the world's largest telecommunications company. Its decision to spin off WarnerMedia and Discovery to produce feature films, television, gaming and nonfiction entertainment means it's honing its strengths in data connectivity. AT&T cut its annual dividend nearly in half to $1.11 per share in 2022, but that doesn't mean the company is in trouble. In fact, it's quite the opposite. 
The company generates annual revenue of more than $160 billion and uses some of that to pay out a quarterly dividend that currently yields a hefty 5.7%.
Bank of America Corporation, based in Charlotte, North Carolina, offers banking and financial products and services for individuals, businesses, institutional investors, large corporations and governments. The company offers the following:
Traditional and money market savings accounts
Certificates of deposit 
IRAs 
Checking accounts
Investment accounts and products
Credit and debit cards
Residential mortgages
Home equity loans
Wealth management solutions
Lending products and services
Commercial real estate and asset-based lending
Treasury solutions
Debt and equity underwriting and distribution
In 2022, Bank of America is expected to pay out $0.84 in dividends per share. 
Procter & Gamble Co. equals reliability and has raised its dividend annually for over 60 years in a row. The company's products include 10 product categories including home care, oral care, skin and personal care, grooming, fabric care, feminine care, hair care and personal health care with household brand names like Charmin, Crest, Pampers and Gillette. 
Procter & Gamble has paid a growing dividend and announced a 10% increase in its dividend — the 65th consecutive annual dividend increase and the 131st consecutive year in which Procter & Gamble has paid a dividend. 
Tap into the Best Dividend Stocks of All Time
Are there more on the "best" list than the six we've mentioned here? Of course! However, this list gives you a good start to owning the creme de la creme of dividend stocks.
When you're unsure about your next investment move (especially if you plan to invest over the long haul), check out dividend stocks for retirement.