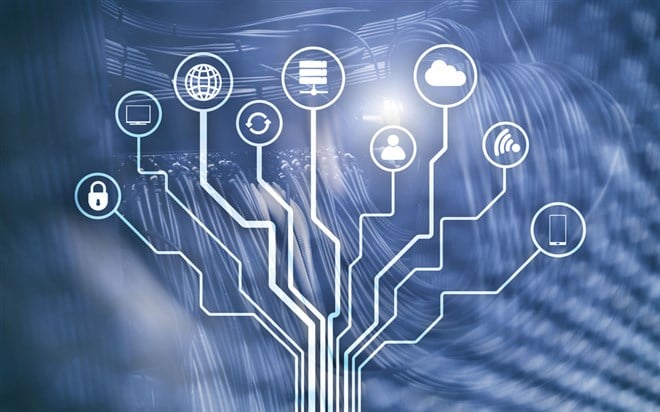 A look at the stock symbol of Samsara, Inc. (NYSE: IOT) defines what the company does, internet-of-things (IOT). The IoT comprises a network of connected devices that can be accessed remotely and communicate with each other, providing and transforming real-time and robust data. Samsara provides IoT monitoring and tracking systems for manufacturing, agriculture, energy, wholesale, transportation, and logistics companies.
It provides hardware and software solutions that help companies collect real-time data utilizing industrial IoT solutions. Products range from sensors, controllers, and connected devices to video cameras and monitoring systems.
These devices gather massive amounts of data around the clock, which is analyzed using artificial intelligence (AI) algorithms to provide insights and derive solutions for its clients. Samsara helps companies better to analyze their operations, inventories, and workflows to improve and optimize operational efficiencies.
IoT and AI Tailwinds
The need for efficiency is a constant when operating a business that relies on physical assets. Samsara helps companies modernize their physical operations, helping to progress their digital transformation. The company has triple tailwinds of IoT, big data, and AI. Compiling real-time data through connected devices onto a single source of truth platform that can homogenize it into relevant and actionable insights is at the core of its software-as-a-service (SaaS) model.
Samsara has an extensive list of well-known blue-chip customers. Food distributor Sysco Corp. (NYSE: SYY) uses Samsara to manage its fleet of delivery trucks. Waste Management (NYSE: WM), transportation logistics company Rider System Inc. (NYSE: R), and The Coca-Cola Co. (NYSE: KO) utilize Samsara's fleet management solutions that utilize IoT with real-time sensors tracking trusts to help improve routing, cost, and fuel savings, monitor driver behavior and collect engine and components diagnostics.
Edging Closer to the Path to Profitability
On March 2, 2023, Samsara released its fiscal fourth quarter 2023 earnings report for the quarter ending in January 2023. The company saw an earnings-per-share (EPS) loss of ($0.02), excluding non-recurring items, versus consensus analyst estimates for a loss of (-$0.05), beating by $0.03. Revenues rose 48.3% year-over-year (YoY) to $186.6 million, beating analyst estimates of $171.59. The ending annual run rate (ARR) grew 42% YoY at $795.1 million. Clients with ARR over $100,000 grew 53% YoY to 1,237.
CEO Sanjit Biswas commented, "We ended fiscal year 2023 with $795 million of ARR, growing 42% year-over-year. While growing at scale, we remain committed to operating efficiently on our path to profitability." He continued, "We see a vast opportunity for our customers as they modernize their physical operations, which will have a profound impact on our global economy."
Raising the Bar
Samsara expects fiscal Q1 2024 EPS losses of ($0.05) to ($0.10) versus ($0.06) consensus analyst estimates. The company sees a fiscal full-year 2024 EPS loss of ($0.05) to ($0.07) versus ($0.15) estimates and revenues between $838 million to $848 million versus $820.77 million analyst estimates. Revenues are expected between $190 million to $192 million versus $182.59 million estimates.
Goldman Sachs Upgrade
On March 3, 2023, Goldman Sachs upgraded shares of IOT to a Buy with a $27 price target, up from a Neutral rating. The catalysts prompting the upgrade were credited to the easing supply chain, raised guidance, accelerating customer adoption, and attaining breakeven cash flow by year's end.
Weekly Rounding Bottom Cup Formation
 The weekly candlestick chart on IOT shows the cup lip line formation in January 2022 as shares started their fall from $21.84. Shares cascaded lower to an initial bottom at $8.72 in May 2022. IOT triggered the weekly market structure low (MSL) breakout through $12.01, fueled by the weekly stochastic 20-band bounce.
This sent shares rising to $17.49 by August 2022 before a deeper pullback saw a new low at $8.42 by November 2022. The weekly stochastic completed its full oscillation back down through the 20-band. It staged a rally on the bounce up through the 20-band as the weekly MSL triggered again above $12.01, sending shares towards the cup lip line near $21.84, completing the rounding bottom and the cup.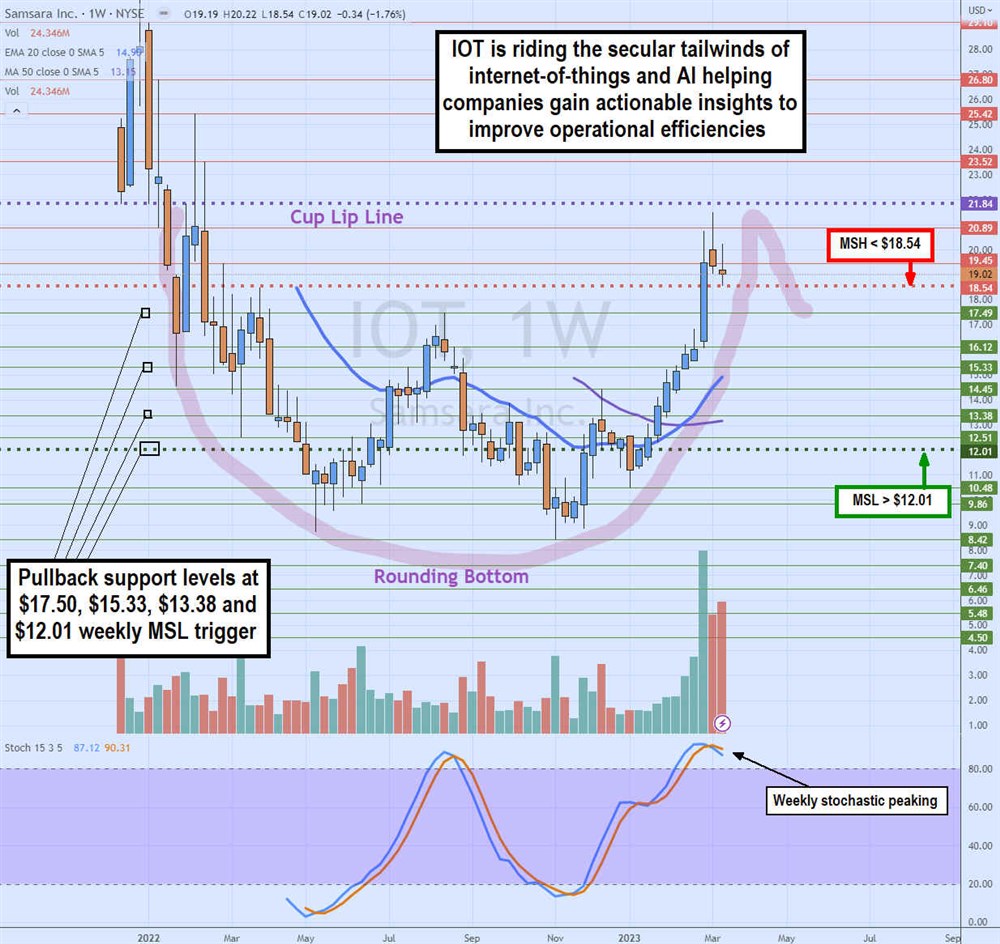 The weekly market structure high (MSL) trigger formed at $18.54, which can form the handle if it breaks. The weekly stochastic peaked and is crossing back down to retest the 80-band. The weekly 20-period exponential moving average (EMA) is uptrending with support at $14.90, followed by the weekly 50-period MA at $13.15.
Pullback support levels are $17.50, $15.33, $13.38, and $12.01 weekly MSL trigger.