Training Industry today announced that CD2 Learning has been selected as part of the 2019 Top Training Companies™ lists for the Authoring Tools sector of the learning and development market.
Kansas (PRUnderground) February 7th, 2019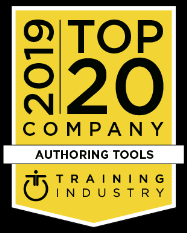 Training Industry, the leading research and information resource for corporate learning leaders, prepares the Training Industry Top 20 and Training Industry Watch List reports on critical sectors of the training marketplace to better inform professionals about the best and most innovative providers of training services and technologies.
Selection to the 2019 Training Industry Top 20™ Authoring Tools Companies List was based on the following criteria:
• Leadership and innovation of authoring tool
• Breadth and quality of authoring tool features and capabilities
• Company size and growth potential
• Quality and number of clients
• Awards, recognition and competitive differentiation
Rich Bartlett, Co-founder of CD2 Learning says, "This award is meaningful because our authoring suite is truly one of the functions that sets our platform apart. As a four-year recipient of this award, it's affirming to realize our innovations and technology are on target with what the market is looking for. The ability to create learning that the modern workforce wants and expects is critical for any e-learning program. We are honored to be included in this group of impressive technology companies and appreciate Training Industry, Inc.'s tremendous efforts in showcasing the industry."
"CD2 Learning stands out among other companies in this sector and warrants a place on the Training Industry Top 20 Authoring Tools List due to its extensive assessment, content and reporting capabilities," said Ken Taylor, president of Training Industry, Inc. "The organizations on the Top 20 List are leaders that are developing innovative and engaging authoring tools in the learning technologies market."
"The Training Industry Top 20 Authoring Tools List is comprised of companies that provide leading features and capabilities to the corporate learning professional," said Danielle Draewell, research analyst at Training Industry, Inc. "CD2 Learning's content authoring platform and tools include new features focused on the content library that make it easier to search, share, collaborate on and change content."
Please provide any thoughts or feedback on this list by emailing info@trainingindustry.com.
About Training Industry, Inc.
Training Industry (https://trainingindustry.com) presents news, articles, webinars and research reports focused on supporting the corporate training leader and offers complementary referrals to training professionals seeking to source products or services at https://trainingindustry.com/rfp.
About CD2 Learning
CD2 Learning is changing the way people learn and grow through a scalable cloud platform designed for the modern workforce. Our name represents our fundamental difference, Content Driven Delivery. Since 2008, we've worked with organizations of all sizes to support their digital learning and development needs. We continually create new capabilities to meet the rapidly evolving needs of the L&D professional and the individual learner. This top-down/bottom-up approach allows our clients to develop a culture that has real impact on the overall success of the organization. www.cd2learning.com
Press Contact
Name: Rich Bartlett

Phone: 913-800-6886

Email: rbartlett@cd2learning.com

Website: www.cd2learning.com
Original Press Release.