Hedging Against Volatility: Should You Consider Gold?
June 26, 2019 at 17:43 PM EDT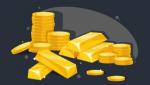 As investors look for ways to better manage risk and returns, one option could be through adding gold to a portfolio. The yellow metal has historically moved in the opposite direction of the stock market and is often perceived as a safe haven asset. There are many ways to invest in gold: through...