Peninsular Pest Control in Jacksonville, FL is celebrating its 67 year anniversary and explains its secret to success and longevity. More information can be found at https://www.crittergitter.com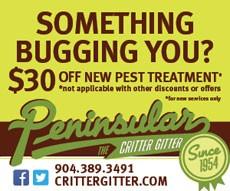 Jacksonville, United States - January 23, 2021 /PressCable/ —
Peninsular Pest Control is celebrating their 67th Anniversary, which commemorates 67 iconic years in business. This is a massive milestone for the Jacksonville, FL-based Pest Control Service business, which has provided Pest Control Service to Home Owners & Business Owners since 1954.
Peninsular Pest Control got its start in 1954 when founders Earl and Louise Dixon saw a need to "kill 'em with kindness," that there was really no one company in Jacksonville taking care of "unwelcome guests," termites, or lawn troubles.
One of the earliest challenges Peninsular Pest Control faced was letting home-owners know about a commercial option for taking care of the unwanted insects, pests, and termites that regularly destroyed homes and ruined property. .
While every business indeed faces challenges, some, like Peninsular Pest Control are fortunate enough to enjoy real successes, wins and victories that make up the longevity they've enjoyed. Once early industry breakthrough happened when scientists came up with a concept called "integrated pest management" in 1959, just five years after the founding of Peninsular Pest Control. This term was not popularized in the vernacular until around 1967. The Scientists responsible for this concept were R. Van Den Bosch, R.F. Smith, S.M. Stern, and K.S. Hagen.
Carolyn Dixon Richardson, President at Peninsular Pest Control, was also quoted when discussing another secret to the company's longevity. "One of the most meaningful things in Peninsular Pest Control's history so far has been that generations of home-owners have trusted Peninsular Pest Control, since we are a family owned and operated who have been offering pest control services since way back in 1954."
Peninsular Pest Control's President, Carolyn Dixon Richardson goes on to say, "We're delighted to be celebrating our 67 Year Anniversary. I believe the secret to getting this far in business today is to serve our community with a smile and with pride. Our pest control experts are well trained, and always 'kill 'em with kindness.' Most of our employees have been with the company for 10 years or more, so they really are the best exterminators in the business."
Peninsular Pest Control currently consists of 90 employees and has big plans for the upcoming year. One of their core objectives is to expand into more homes and into more service areas, including St. Augustine, FL. They offer pest control services in almost every area that is within an hour drive of Jacksonville.
Peninsular Pest Control would also like to thank friends, customers and all its partners for their well wishes on this happy occasion.
Their Jacksonville pest control company information and reviews can be found here and here.
More information on the business can be found at https://www.crittergitter.com/
Contact Info:
Name: The Critter Gitter
Email: Send Email
Organization: Peninsular Pest Control
Address: 2609 Phyllis St, Jacksonville, Florida 32204, United States
Phone: +1-904-389-3491
Website: https://www.crittergitter.com/
Source: PressCable
Release ID: 88994613