Hungry Dictator Press provides a rare and informative glimpse into the dark kingdom of the DPRK, with South Korean Lawmaker Ha Tae Keung's fact-based graphic novel about the rise of North Korean dictator Kim Jong Un.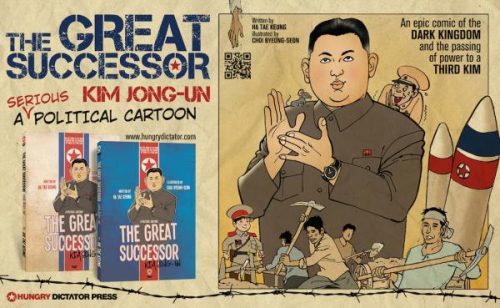 Minneapolis, United States - March 2, 2021 /PressCable/ —
Hungry Dictator Press reveals truth about North Korean dictator, Kim Jong-Un and his rise to power with historical graphic novel, The Great Successor providing a rare and informative glimpse into the dark kingdom of the DPRK.
For Immediate Release
(Seoul, South Korea, February 10, 2021)
Activist Ha Tae Keung, a National Assembly representative for the Saenuri Party and former CEO of Open Radio North Korea, offers an historically correct graphic novel taking readers behind the scenes of one of the world's most secretive country in the world. The Great Successor, an 'International Book Award' winning exposition on Kim Jong-Un, profiles the reclusive leader, his rise to power and how he was able to sideline his two older brothers.
"Ha's portrayal of Kim is reminiscent of a Hitlerian clone in Franklin Schaffner's sci-fi thriller 'Boys from Brazil," – Philip Iglauer, The Korea Herald
Subtitled "An epic comic of the Dark Kingdom & passing of power to a 3rd Kim," the story begins with Kim Jong-Un's appointment over his older half-brother, Kim Jong Nam, who was once widely considered to be the next Supreme Leader of the Democratic People's Republic of Korea. The author explains how Jong-Un, a third-born son won his father's favor through anecdotes from Jong-Un's childhood. The Great Successor tells the story from the perspective of everyday North Korea and government officials, and is based on first-hand accounts, news reports of assassination attempts, Cold-War style nuclear posturing, and the hedonism of Kim Jong-Un's rule.
"A well-illustrated and captivating read about the new leader of North Korea… A work of art in every sense of the word." – Fuebuzz, Amazon review
Ha Tae Keung's revelations are derived from interviews with North Korean defectors, including the Kim family's personal chef, and late-night media broadcasts from the State-run Korean Central News Agency. It provides a dystopian, yet accurate, account of Kim Jong-Un's life that is accessible to both young readers and adults.
The book trailer is available at https://youtu.be/l1IzueyGTaE
Illustrator Choi Byeong-Seon brings the narrative to life with illustrations depicting the lives of both North Korean leaders and workers – from the young successor's supposed "mythological birth" into the sacred Baekdu bloodline, to a propaganda war waged by the North against a beleaguered populace.
"Perhaps the most serious and thought-provoking comic book that I've ever read." – Lit Amri, Readers' Favorite
The book reveals the dichotomy of Jong-Un's reign and people trying to survive famine, fear and oppression. As a champion for open media, Ha Tae Keung sought to correct the disinformation perpetuated by the North Korean government. This book is that correction.
"Open Radio for North Korea… are not afraid to be brutally honest about what they see going on in North Korea. This collection certainly pulls no punches." – Bert Edens, OnlineBookClub.org review.
As such, the book's final call to action reads: "Where There Is Tyranny There Is Resistance!" – Ha Tae Keung
Available through Ingram or Baker & Taylor, or direct in ebook & print editions at greatsuccessor.org
#NorthKorea #DPRK #KimJongUn #Korea #Dictator #Propaganda #GreatSuccessor #MilitaryFirst #KimIlSung #KimJongIl #Politics #GreatDictator #Juche #GraphicNovel
Contact Info:
Name: Peter Liptak
Email: Send Email
Organization: Hungry Dictator Press (an imprint of Exile Press)
Address: 1330 Lagoon Ave. 4th FL, Minneapolis, MN 55408, United States
Website: https://exilepress.com
Source: PressCable
Release ID: 88998523