CKM Solutions Group announced their one-day workshop for attendees to become a CKM Advisor and leader in their community. The event will be held in Santa Fe Station, Las Vegas, NV, March 12, 2021.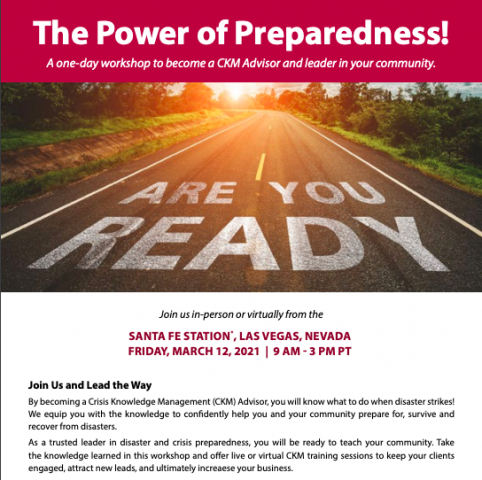 Las Vegas, United States - March 4, 2021 /PressCable/ —
Community Leaders, Real Estate, Mortgage, Insurance Professionals, Crisis Management, First Responders, Business Professionals, and Individuals looking for the latest information on crisis management and disaster preparedness in on a one-day workshop, can become a CKM Advisor and leader in their community, and now register to attend in-person or online "The Power of Preparedness" scheduled for March 12, 2021.
CKM Solutions Group is sponsoring this year's event, which will cover key issues such as:
How to Prepare for Disasters: Understanding Disasters and Their Impact, The Whys, What's and When's of Preparing, Creating a Resilient Mindset, and Preparing for Natural and Man-made Disasters.
How to Survive Disasters: Developing a Successful Leadership and Communication Plan.
How to Recover from Disasters: Navigating Insurance and Mortgages Following a Disaster, Managing Recovery Services, Understanding Which Organizations Are Available to Assist, and The Benefits of being a CKM Advisor.
Full details on the event can be found on the company website at https://ckmsolutionsgroup.com/product/workshop/
When asked about the reasons behind creating this event, the host of the event, Coni Meyers said:
"Disasters teach us humanity, give us time to pause and reflect, and change our course. This past year shows us, now more than ever, crisis and disaster can strike at any time.
By becoming a Crisis Knowledge Management (CKM) Advisor, attendees will know what to do when disaster strikes! We equip people with the knowledge to confidently help themselves and their community prepare for, survive and recover from disasters. The mission at CKM Solutions Group is to take the lead by preparing and sharing our knowledge with as many individuals as possible so that everyone knows what to do when faced with any disaster in their community. CKM Solutions Group trains people to be a leader in disaster and crisis preparedness to keep clients engaged, help nurture and acquire new leads, and ultimately attract more business. Real estate brokerage or teams can also use this program to attract new agents by offering this invaluable information in their recruitment tools."
A previous CKM Solutions Group event attendee, Kathy Lane, the founder of DieSmart.com, said:
"For most of us, our home is our most valuable asset. Coni's program helps you make the right plan so that when disaster hits, you're ready. Another great thing is her program helps in the recovery after a disaster and is like a one-stop-shopping for getting help to rebuild. That's what her product is; it's a form of preparedness."
Attend in-person or virtually for a one-day workshop from the Santa Fe Station® in Las Vegas, Nevada on March 12th from 9 a.m. to 3 p.m. PT.
The CKM Solutions Group website has full details about the sessions at this year's event. Interested parties can visit the website at: https://ckmsolutionsgroup.com/
About CKM Solutions Group:
Crisis Knowledge Management (CKM) Solutions Group was founded to create a network of resilient individuals that can empower their communities by educating family, friends, and businesses to be prepared, survive and recover from natural and man-made disasters.
Vision: "Our hope is that everyone can have a positive impact on disasters in the world."
Mission: "CKM Solutions Group believes that each of us have a duty to ourselves, our families and the communities we live in to raise awareness about disaster preparedness."
About Coni Meyers:
Coni Meyers, LMC, CBLC, CDC, Crisis Management Specialist, and Leadership Clarity Strategist has spent over 40 years supporting thousands of individuals and businesses.
She is passionate about helping and creating mindful, visionary leaders that can overcome any crisis and disaster. Her unique background combined with her experience as a FEMA inspector and trainer gives her an all-encompassing perspective for creating this certification. She saw a need to educate and prepare as many individuals as possible for all disasters. And so CKM Solutions Group was born!
Coni has helped take the National Home Inspection Company, now known as WIN Home Inspections, and OnlineEd from the local markets to having a national presence. Additionally, she has owned four consulting companies and has earned three prestigious life and leadership coaching credentials.
Coni is the founder of CKM Solutions Group, as well as Crystalline Moment Success Movement and Kickbutt Leadership.
She is an international best-selling author, speaker and trainer. Her current work includes her new book When the Unthinkable Happens…Be Prepared, Be Ready! Coni is also a co-author of Leadership in Trying Times.
Contact Info:
Name: Coni Meyers
Email: Send Email
Organization: CKM Solutions Group
Address: 7721 Beach Falls Ct, Las Vegas, NV 89149, United States
Phone: +1-800-634-9677
Website: https://ckmsolutionsgroup.com/
Source: PressCable
Release ID: 88999772