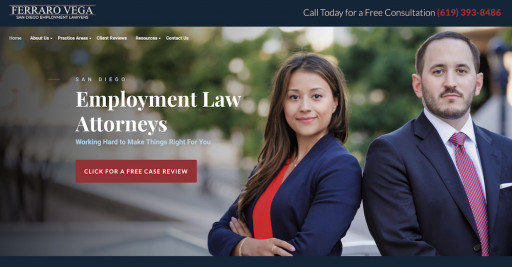 ferrarovega.com
New site image
SAN DIEGO - March 5, 2021 - (
Newswire.com
)
Ferraro Employment Law, a leader in providing aggrieved workers in San Diego, California legal representation in labor and employment disputes, has made bold moves to start out 2021. The firm has a new name - Ferraro Vega San Diego Employment Lawyers - and a new, state-of-the-art website. Connecting with an experienced employment attorney in San Diego, CA has never been easier.
Ferraro Vega San Diego Employment Lawyers' new digital home - ferrarovega.com - provides a compelling, user-friendly interface for prospective clients. The site features details about the firm's current and active cases, provides helpful and easy-to-understand legal information, and highlights the experience touted by its rising star attorneys.
Led by founding attorneys Nicholas J. Ferraro and Lauren N. Vega, the firm focuses exclusively on employment and labor disputes in Southern California. Since 2018, its San Diego employment attorneys have represented clients in cases involving employee misclassification, wage and hour violations, sexual harassment, workplace discrimination, retaliation, wrongful termination, and other employment disputes. Ferraro Vega Employment Lawyers actively represents clients in individual litigation, arbitrations, PAGA claims, and class action lawsuits at the state and federal levels.
If you work in Southern California and your employer has violated your rights in some way, contact Ferraro Vega San Diego Employment Lawyers. You may have a legitimate legal claim on your hands. The firm's San Diego labor and employment law attorneys can help you understand your rights and fight to make things right for you. Your first consultation is free, and there's no fee unless they win.
Media Contact:
Company Name: Ferraro Vega San Diego Employment Lawyers
Address: 2305 Historic Decatur Rd Suite 100
City: San Diego
State: CA
Zip: 92106
Country: United States
Press Release Service by
Newswire.com
Original Source:
New Year, New Name, New Website - Ferraro Vega San Diego Employment Lawyers