Frontliners are on their feet for long hours sometimes with only a rare day off. This can lead to pain and injuries. The new CopperrJooint Compression Ankle Braces for Men can both help prevent accidents along with speeding up recovery if an issue does occur.
(PRUnderground) May 24th, 2021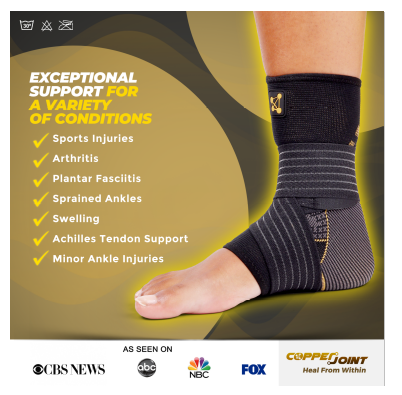 When it comes to tough jobs that nearly every American is grateful for, there's no doubt that the last two years of the pandemic has pushed frontline workers to the top of the list. All this hard work can have drawbacks – a top being experiencing ankle and foot pain or injuries. Finding a product that can provide both support and relief doesn't need to be expensive or difficult. Leading health and wellness company CopperJoint are leading the way with its CopperJoint Compression Ankle Braces for Men. This new brace is winning rave reviews from loyal shoppers.
"We admire frontline workers and all they have done and sacrificed since Covid-19 broke out," commented Stefano Starkel, Founder of CopperJoint. "It makes us quite happy that these workers are finding our ankle brace a valuable product. With all they do for our country and local neighborhoods, it's a victory for us to be able to help these true heroes."
The Ankle Brace features include being available in a number of different sizes and is also reinforced with a strap for the perfect fit; tight compression to cut down swelling, inflammation; often reducing the time needed for an injury to recover; pure copper is included through the material of the brace, a factor that Holistic Health experts say can encourage healing. The brace can also be used by women without any difficulty as long as they order the right sie and fit.
Feedback for the new CopperJoint Ankle Brace has been very enthusiastic.
Everette R., recently safd in a five-star review, "Liver since busting my left ankle dancing ballet in high school, it's been weaker than I'd like so I thought I'd get something to stabilize it when working out. This ankle support brace provides excellent support and protection. Plus it fits in my running shoe and it's super comfortable. I can even wear this while not working out too."
For more information or to order be sure to visit https://www.amazon.com/ankle-braces-for-men/dp/B085RWNPGN.
About CopperJoint
At CopperJoint, we provide drug-free, pain-relief solutions by creating premium copper-infused garments and supports. Our goal is to improve the quality of life for people suffering from joint and muscle pain due to accidents, arthritis, age, or injury. We are committed to use only the highest copper content and make copper compression therapy affordable for everyone.
The post CopperJoint Compression Ankle Braces For Men Gives Comfort To Busy Frontliners first appeared on PRUnderground.
Press Contact
Name: Stefano Starkel, Founder

Phone: 307-309-4055

Email: Contact Us

Website: https://www.copperjoint.com
Original Press Release.