Finding something that is safe and can help reduce Plantar Fasciitis or other foot pain can be a big challenge. The new CopperJoint Compression Socks are winning praise for delivering real results.
(PRUnderground) May 26th, 2021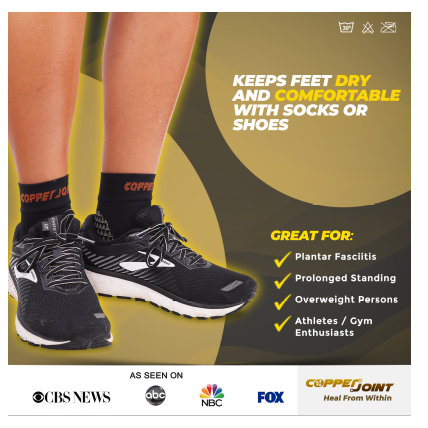 Plantar Fasciitis is a quite common condition that can cause a great deal of foot, ankle, and calf pain and discomfort. Not surprisingly, people suffering from this condition are generally very interested in ways to relieve the pain and help regain mobility, which is often hampered severely. Fortunately, leader in pain-relief solution products CopperJoint is here to help. CopperJoint recently celebrated the success its CopperJoint Plantar Fasciitis Socks Infused With Copper have had in helping to relieve foot sprain. All without a big expense or having to take any potentially dangerous medications or over the counter chemicals.
"It's wonderful that our Plantar Fasciitis Socks are delivering real value to our customers and helping them become closer to pain-free," commented Stefano Starkel, the clearly passionate Founder of CopperJoint. "No one wants to deal with foot pain all day long. Here's a way to get back on track without having to break the bank."
Key features of the Plantar Fasciitis socks include tight compression to help cut pain and inflammation; quality material body infused with pure copper for holistic health benefits; special comfortable fit that makes the socks an easy wear day or night or both; easy to clean and keep hygienic; and much more.
Reviews of the compression socks continue to be extremely positive.
Michael U., recently said in a five-star review, "Lots of stuff going on with my feet, I won't bore you with details. But I want to put off surgery without doing too much additional damage. My hope was that compression would stabilize the foot structure somewhat so I can work and recreate with reduced pain. So far, it's working. I also received a coupon with a nice discount on a second order, and now I can use a fresh sleeve every day always having a fresh one available. I'll be buying more in the future."
For more information or to order be sure to visit https://www.amazon.com/plantar-faciitis-socks/dp/B085RTZMY2.
About CopperJoint
At CopperJoint, we provide drug-free, pain-relief solutions by creating premium copper-infused garments and supports. Our goal is to improve the quality of life for people suffering from joint and muscle pain due to accidents, arthritis, age, or injury. We are committed to use only the highest copper content and make copper compression therapy affordable for everyone.
The post CopperJoint Plantar Fasciitis Socks Infused With Copper Helps Relieve Foot Sprain first appeared on PRUnderground.
Press Contact
Name: Stefano Starkel, Founder

Phone: 307-309-4055

Email: Contact Us

Website: https://www.copperjoint.com
Original Press Release.