Being a medical service aide can be very hard on the ankle. The CopperJoint Copper Infused Ankle Support is now available, delivering real help reducing pain and inflammation.
(PRUnderground) June 7th, 2021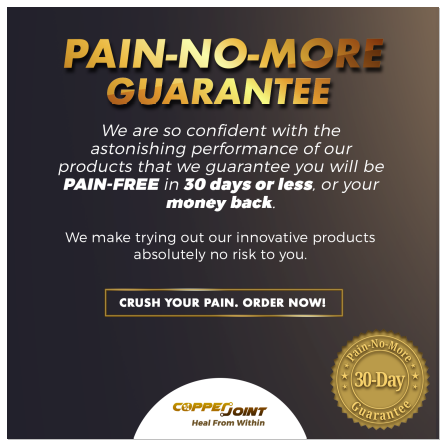 The last year has seen healthcare workers, and especially Medical Service Aides, worker longer and harder than ever. This remarkable sense of duty has won them the affection of all paying attention, which is amazing, but it has also led to common injuries, aches, and pains. One of the most prevalent areas of the body affected is the ankle. Thankfully, the leader in health and wellness support projects, CopperJoint is here to help. In exciting news, CopperJoint has celebrated the wide adoption in hospital facilities, its popular CopperJoint Copper-Infused Ankle Support has received, making it a healthcare worker favorite.
Highlights of the features of the CopperJoint Ankle Support brace, include its tight but comfortable fit that can worn all day and night with no problems at all making long shifts go smoothly; its designed to deliver the perfect fit, available in a number of sizes, plus with an adjustable strap; made of high quality material infused with pure copper to potentially speed up an injury's internal healing process; and much more.
The ankle support continues to win top reviews across Amazon.com for this exceptional product.
Tansor, recently said in a five-star review, "I have had tendinitis for almost two years in my ankle area. Although it's getting better, I have to wear something on my ankle at night to keep my foot from pointing. I've tried several and some have been better than others but this is truly my favorite! It's so comfortable. I'm purchasing another just to have an extra. I wash it by hand and it dries pretty quickly as well. Great strong Velcro's. I actually look forward to putting it on!"
For more information or to order be sure to visit https://www.amazon.com/ankle-support/dp/B085RWNPGN.
About CopperJoint
At CopperJoint, we provide drug-free, pain-relief solutions by creating premium copper-infused garments and supports. Our goal is to improve the quality of life for people suffering from joint and muscle pain due to accidents, arthritis, age, or injury. We are committed to use only the highest copper content and make copper compression therapy affordable for everyone.
The post Medical Service Aides are Using & Loving CopperJoint Copper-Infused Ankle Support in Hospital Facilities first appeared on PRUnderground.
Press Contact
Name: Stefano Starkel, Founder

Phone: 307-309-4055

Email: Contact Us

Website: https://www.copperjoint.com
Original Press Release.