FlipHTML5's online pamphlet maker converts flat content such as PDFs and images into wonderful flipbooks, suitable for any content marketing campaign.
(PRUnderground) July 14th, 2021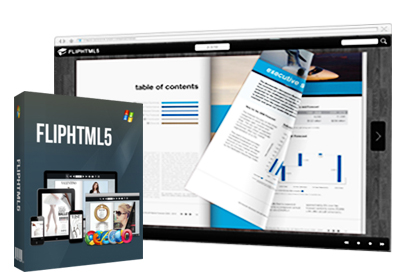 Pamphlets are typically folded paper documents that contain useful information about a business, public service, or establishment. They're generally placed in locations that many people frequent or distributed by hand or mail. There is, however, a more effective way to make and distribute pamphlets. Since very few people take the time to pick up and read a paper pamphlet anymore, it makes sense to turn to digital pamphlets. FlipHTML5 is the perfect online pamphlet maker for the job.
"If you're looking for a way to make your marketing more modern and effective, our online pamphlet maker is it," says CEO of FlipHTML5, Winston Zhang.
Online pamphlets are easier to distribute than paper-based ones. For one, there are no printing costs involved. Nor is there the need to mail them or use manpower to hand them out. With FlipHTML5's online pamphlet maker, the pamphlets can be shared as a URL via email, social media, online messaging apps, and embedded on organizations' websites. FlipHTML5 offers online hosting for pamphlets as well.
This online pamphlet maker creates more attractive and engaging pamphlets. Unlike paper-based pamphlets that can only contain text and still images, online pamphlets made with the online pamphlet maker can include various multimedia. Information becomes more appealing when presented in the form of videos and audio. And users can add links to additional information, sales, or registration pages. Users will find it easier to process the information and take the desired actions.
Another advantage of online pamphlets is that they can be optimized for search engines. That way, persons who search online for information will be directed to the pamphlets quickly and easily. With FlipHTML5's online pamphlet maker users can extract the text of their pamphlets and publish it as Text version so that the content can be searched by Google.
FlipHTML5's online pamphlet maker is easy to use and convenient. It quickly converts PDF documents to media-rich HTML flipbooks. It features templates to help users get started; all templates can be customized to reflect the user's image and brand. Users get to choose whether the pamphlets flip vertically or horizontally and there's a page-flipping sound effect that gives the impression of a physical document. The interface supports seventeen languages.
For more information, please visit FlipHTML5.
About FlipHTML5
FlipHTML5 Software Co. Ltd. is a world leading provider of digital publishing software. For many years, They have focused on the research and development of outstanding range of e-publishing software for users around the world. Furthermore, they offer customized solutions for publishers in different industries.
The post FlipHTML5 Online Pamphlet Maker Is a Superb Tool for Business first appeared on PRUnderground.
Press Contact
Name: Michelle Fisher

Phone: +86 020-61972665

Email: Contact Us

Website: http://fliphtml5.com/
Original Press Release.