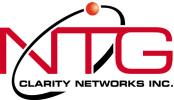 Toronto, Ontario - TheNewswire - August 11, 2021 – 2729252 Ontario Inc. (the "Acquiror") announces that it has acquired 15,000,000 common shares of NTG Clarity Networks Inc. ("NTG") by way of a shares for debt private placement at a price of $0.05 per share, for an aggregate purchase price of $750,000, which was satisfied by the settlement and release of indebtedness of NTG to the Acquiror in an amount equal to the subscription price (the "Private Placement"). The Acquiror is controlled by Ashraf Zaghloul, CEO of NTG, and Kristine Lewis, President of NTG.
Prior to completion of the Private Placement, the Acquiror did not own any common shares of NTG. After giving effect to the Private Placement, the Acquiror owns 15,000,000 common shares, which represents 10.42% of the outstanding common shares.
The common shares were acquired for investment purposes. In the future, the Acquiror may, subject to applicable law, acquire or dispose of securities of NTG depending upon a number of factors, including but not limited to general market and economic conditions and other available investment opportunities.  
For further information or to obtain a copy of the early warning report, please contact Kristine Lewis at 905-305-1325 or klewis@ntgclarity.com.
Copyright (c) 2021 TheNewswire - All rights reserved.