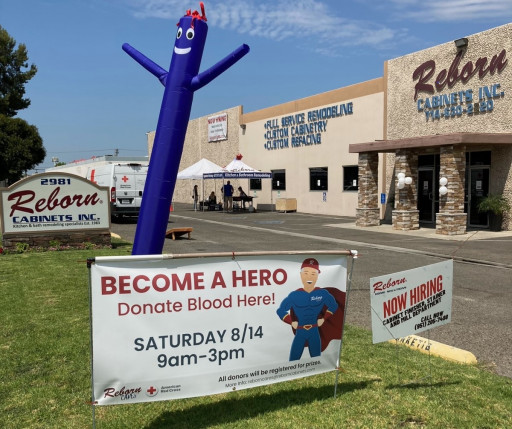 ANAHEIM, Calif. - August 26, 2021 - (
Newswire.com
)
Saturday, Aug. 14, 2021, Reborn Cabinets hosted their first-ever blood drive. Team Reborn members were on hand to greet the donors. With balloons, games and a BBQ lunch, all enjoyed the environment while donating to a worthy cause. The donors were happy to share their stories of why they donate: some emotional, some funny, and all for the purpose of knowing their blood donation could give someone a second chance at life. By the end of the day, Team Reborn, along with other donors, had donated enough blood to impact the lives of 69 individuals.
Hosting a blood drive coincides with Reborn Cabinets' commitment to giving back to the community. "With a blood donation, we could help save the life of someone who could be a coworker, family member or neighbor. This blood drive is our way of giving staff, colleagues and neighbors an opportunity to help save lives," said Vince Nardo, CEO of Reborn Cabinets. Reborn Cabinets has committed to hosting a Red Cross blood drive annually. To donate or to learn more about how to become a donor, please visit redcross.org.
Reborn Cabinets was founded in Anaheim more than 35 years ago by Vinny and Brenda Nardo. Since its inception, the company has continued to grow and now has several locations across the west coast and Nevada. Reborn Cabinets corporate headquarters is located 5515 E. La Palma Ave. The showroom and manufacturing center is still based at 2981 E. La Palma Ave.
#    #    #
About Reborn Cabinets
Reborn Cabinets, headquartered in Anaheim, with locations in Lake Forest, Torrance, San Diego, Livermore, CA and Las Vegas, Nevada, is a third-generation, family-owned corporation that provides services for window replacement, kitchen and bath remodeling, as well as offering products for new home construction including cabinets, plumbing fixtures, appliances and countertops. Reborn Cabinets celebrates over 50 years of experience and is one of California's largest home design and remodeling firms. For more information about Reborn Cabinets, visit our website at www.reborncabinets.com .
Press Release Service by
Newswire.com
Original Source:
Reborn Cabinets Joins Red Cross in Hosting a Community Blood Drive