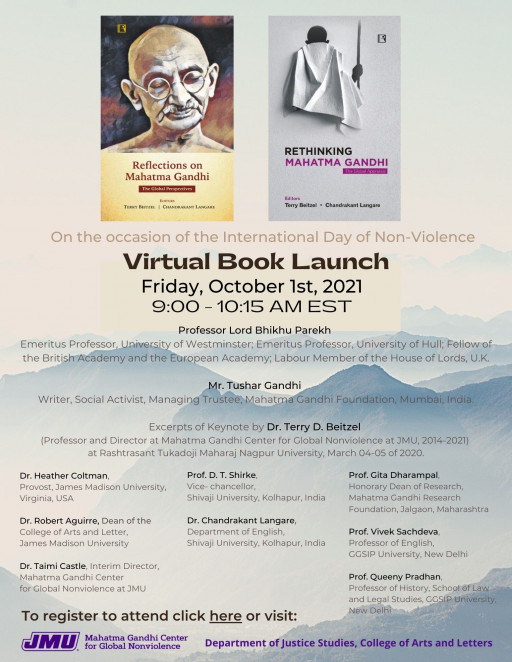 Reflections\/Rethinking Mahatma Gandhi by Beitzel & Langare
Full Announcement of upcoming Book Launch
HARRISONBURG, Va. - September 24, 2021 - (
Newswire.com
)
The Mahatma Gandhi Center for Global Nonviolence at James Madison University announces two new publications, co-edited by its late Director Dr. Terry Beitzel and Dr. Chandrakant Langare of Shivaji University. 
Reflections on Mahatma Gandhi: The Global Perspectives provides new understanding with an interdisciplinary collection that revisits the body of Gandhi's work. Thirty chapters on topics ranging from "Ahimsa and Gandhian Ecology", to "The Gandhian Idea of Conflict Transformation" and "Toward a Non-violent World Order" demonstrate the incredible reach and breadth of Gandhi's significance. 
Rethinking Mahatma Gandhi: The Global Appraisal explores a diverse range of questions and applications of Gandhian thought in the contemporary global context, with chapters on the "Rudiments of Gandhian Economics", "Mahatma Gandhi and Fake News" and "Democracy", among 29 other sections. 
Mohandas Karamchand Gandhi is one of the great minds of global peace and non-violence and is also subjected to radical criticism. Being an advocate of basic human rights, he was the most influential figure and advocate of non-violence as a method and strategy for resistance. One hundred and fifty years after Gandhi's birth, his teachings and actions continue to resonate. Posters in classrooms read "You must be the change you want to see in the world", and both everyday people and experts reach out to Gandhian ideals. Yet, in the times we are living in, current concerns and popular terms like justice, equity and violence-prevention are discussed repeatedly, sometimes voicefully, sometimes in silos, to an extent that becomes foggy and elusive. The two new books respond to a global need to reassess Gandhism and find clarity. 
On the occasion of the International Day for Non-Violence, James Madison University's Mahatma Gandhi Center for Global Nonviolence will host a virtual Book Launch, on Friday, October 1, from 9 to 10:15 a.m. EDT. 
Speaking live at the event will be renowned Gandhian scholar, Professor Lord Bhikhu Parekh, who is Emeritus Professor at the University of Westminster and the University of Hull, a Fellow of the British Academy and the European Academy and a Labour Member of the House of Lords in the United Kingdom. Mr. Tushar Gandhi, the great-grandson of Mahatma Gandhi, will also offer remarks on the new books. Mr. Gandhi is a writer, social activist and Managing Trustee of the Mahatma Gandhi Foundation in Mumbai, India. Remarks from co-editor Dr. Terry Beitzel will be reproduced from a lecture given in Nagpur, India, in March of 2020. Dr. Beitzel was the Director at the Mahatma Gandhi Center for Global Nonviolence at JMU from 2014-2021. The event will also have the presence of several of the books' contributing authors and of co-editor Dr. Chandrakant Langare from Shivaji University in Kolhapur in India, along with representatives of James Madison University in Virginia, USA. 
The Virtual Book Launch on Friday, October 1, is open to the public. Registration to attend the event is required and available through: https://linktr.ee/gandhicenterjmu
These two new volumes, in their inception, have already brought together scholars, educators and practitioners from around the world. As they are launched to the public, they will now add students and readers to the global conversation, in critical times when many are seeking Truth and Non-Violence.
###
The Mahatma Gandhi Center for Global Nonviolence at JMU is under the Justice Studies Department and College of Arts and Letters at James Madison University. It is dedicated to promoting justice and nonviolence through education, scholarship and engagement.
Additional info: 
https://www.rawatbooks.com/history/reflections-on-mahatma-gandhi
https://www.rawatbooks.com/history/rethinking-mahatma-gandhi
Mahatma Gandhi Center for Global Nonviolence at JMU
Contact: 
Dr. Taimi Castle, Interim Director, castletl@jmu.edu
Ms. Sylvia Whitney Beitzel, Community Representative to the Gandhi Center Advisory Board, whitn2sj@jmu.edu
Related Files
Virtual Book Launch October 1st _ Reflections Rethinking Mahatma Gandhi (Beitzel, Langare).pdf
Press Release Service by
Newswire.com
Original Source:
In Times When Non-Violence Seems Foggy, 2 New Books Energize the Significance of Gandhian Thought and Bring World Scholars Together