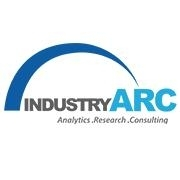 Plastic Films Market
Widespread Use of Plastic Films in Consumer Goods Such as Packaging of Cosmetics, Shampoo, Personal Hygiene Products, Dish and Laundry Detergents, and Household Cleaners Is Also Anticipated to Drive the Plastic Films Market Growth.
Plastic films market size is forecast to reach US$152.2 billion by 2026, after growing at a CAGR of 5.4% during 2021-2026, owing to the increasing usage of plastic films such as polystyrene, cellulose acetate, polyethylene terephthalate, low density polyethylene, high density polyethylene, polystyrene, and more in various packaging and non-packaging applications. The demand for plastic films is increasing in various end-use industries for these applications, owing to the various properties offered by them such as high flexibility, ease of handling, lightweight, durability, and more. The rapid growth of food packaging coupled with the expanding healthcare industry has increased the demand for plastic straps; thereby, fueling the market growth. Furthermore, the flourishing agriculture industry is also expected to drive the plastic film industry substantially during the forecast period.
COVID-19 Impact
COVID-19's global crisis is leading to demands for action from a wide variety of stakeholders, including producers, suppliers, distributors, and customers. A decline in business for at least five months in 2020, combined with lower demand from a few major markets, has placed pressure on producers and vendors of plastic films to be profitable. However, the negative impact of COVID-19 on plastic films to be compensated over the medium to long term future. Plastic film importers are trying to keep a condensed output, shrink product inventory, and keep their feedstock consumption at low levels. Some businesses have deferred their shipments of feedstock, although many others are also decreasing their spot purchases. All these factors are likely to hamper the plastic films market growth in some regions. Amid the COVID-19 pandemic, reducing demand has led to decreasing global plastic films prices, which is having a major impact on the plastic films market.
Plastic Films Market Segment Analysis – By Type
The polyethylene segment held the largest share in the plastic films market in 2020 and is growing at a CAGR of 4.8% during 2021-2026. Linear low density polyethylene (LLDPE) has been quite successful in replacing cellulose acetate, polyethylene terephthalate, low density polyethylene, high density polyethylene, and other film types due to its higher tensile strength and superior impact and puncture resistance properties. This has allowed converters, without sacrificing power, saving material and reducing costs, to make thinner films. Linear low density polyethylene (LLDPE) is widely used for a variety of film applications such as general-purpose film, stretch film, apparel packaging, agricultural film, and more. It is being widely used in varieties of film applications due to its advanced properties such as good water vapor & alcohol barrier properties, good stress crack & impact resistance, Excellent for mild & strong buffers, flexibility, and more. Thus, all these extensive characteristics of linear low density polyethylene (LLDPE) are the key factor anticipated to boost the demand for linear low-density polyethylene-based films during the forecast period.
Plastic Films Market Segment Analysis – By Technology
The blown film technology segment held the largest share in the plastic films market in 2020, owing to the various advantages that it offers. In general, blown film has a stronger mechanical property equilibrium than cast or extruded films since it is drawn in both the transverse and machine directions. The thin film's mechanical properties include tensile and flexural strength and durability. The method requires extrusion, followed by "bubble-like" expansion, of a plastic through a circular die. Through this method, the key benefits of producing film include the ability to manufacture tubing (both flat and gusseted) in a single operation and to remove end effects such as edge bead trim and non-uniform temperature that can result from extrusion of flat die film. Thus, blown film technology is the most preferred technology for manufacturing plastic films.
Request for Sample Report @ https://www.industryarc.com/pdfdownload.php?id=19317
Report Price: $ 4500 (Single User License)
Plastic Films Market Segment Analysis – By End-Use Industry
The food packaging segment held the largest share in the plastic films market in 2020 and is growing at a CAGR of 6.3%, owing to the increasing usage of plastic films in the food packaging industry. Because of an increase in convenient packaging for ready-to-eat foods, snacks, frozen meals, and cake mixes, the food industry is a major end-user of plastic films and has seen steady, strong development. Factors such as flexibility comfort, good sealing strength, and vacuum finish have a positive effect on the growth of the plastic film industry. In addition, scientists around the world are working on various innovations that could contribute to an improvement in the shelf life of packaged food. Washington State University researchers recently experimented with a metal oxide in September 2019 that would greatly improve the shelf life of the food when covered with a coating of plastic film. After three years of storage, this metal oxide was tasted on cheese and tested and found the taste was as strong as the previous version that was stored for nine months. To remain tasty and healthy for three years, they work closely with the US Army to enhance their "Meals Ready to Eat" (MREs). Such advancement in technology is anticipated to have a positive outlook on the market.
Plastic Films Market Segment Analysis – By Geography
Asia-Pacific region held the largest share in the plastic films market in 2020 up to 44%, owing to the increasing demand for plastic straps in the region from the various end-use industries such as food & beverages for packaging commodities. The packaging industry in China is expected to develop at a compound annual growth rate (CAGR) of 13.5 percent during the forecast period, according to the Sea-Circular Organization (2020-2025). According to the Ministry of Economy, Trade, and Industry of Japan, approximately 2.53 million tonnes of plastic films and sheets were produced in Japan in 2018, a slight increase from around 2.46 million tonnes in 2016. Packaging consumption in India has raised from 4.3 kg per person per annum (pppa) to 8.6 kg (pppa) with 200 percent in the last decade, as per the Indian Institute of Packaging (IIP). Plastic film production has increased due to increased demand from the food industry. Furthermore, the increasing population and rapid urbanization in these countries are enhancing the demand for the packaging industry thereby, accelerating the growth of the plastic films market in the Asia Pacific during the forecast period.
Plastic Films Market Drivers
Increasing Food Processing Sector
In various regions, the food processing sector is booming. With the rising food industry, the market for food packaging will also increase significantly. For instance, in 2018, Canada's overall food and beverage industry revenue hit $87 billion, according to the United States Department of Agriculture (USDA). Russia has the eighth largest market for packaged food goods, with a trading volume of 27.5 million tonnes, according to the International Trade Administration (ITA). In 2018, total processed food production in Ukraine was US$15 billion, and processed food exports amounted to US$9.4 billion, representing 50% of Ukraine's agricultural products and processed food exports. The packaging material production industry accounted for 1.7 percent of Mexico's GDP in 2017, 5.8 percent of GDP in the industrial sector, and 8.5 percent of GDP in manufacturing. Thus, the rising food processing sector is increasing the demand for food packaging in various regions, which acts as a driver for the plastic films market.
Increasing Government Initiatives in the Agriculture Sector
Mulches based on plastic films are mainly used to safeguard seedlings and shoots by preventing insulation and evaporation while preserving or slightly increasing soil temperature and humidity. Furthermore, the application of plastic covers is known to reduce weed and pest pressure due to which there is an increasing demand for plastic films from the agricultural sectors. And governments spend heavily on agricultural projects since it is one of the most productive ways of improving environmental sustainability. For example, a total of US$560,000 was spent by the Canadian Government in 2020 by the Canadian Federation of Agriculture (CFA) to establish the Canadian Agri-Food Sustainability Initiative. Initiatives such as the Common Agricultural Policy (CAP) and Young Farmers have been taken up by the European government. The government's numerous agricultural policies are thus booming agricultural production in different regions. And with the increasing agricultural production, the demand for mulching is also increasing which acts as a driver for the plastic films market during the forecast period.
Plastic Films Market Challenges
Fluctuating Raw Material Prices
The raw materials often used for the production of plastic films are the downstream products of crude oil such as polyester and polypropylene. So, the price fluctuation of crude oils also hinders the price of plastic film raw materials. There has been a rise in the price volatility of crude oil in the past year. For instance, the price of crude oil has decreased from US$98.95/bbl in 2014 to US$52.39/bbl in 2015 and increased from US$43.73/bbl in 2016 to US$71.31/bbl in 2018 and then decreased to US$64.21/bbl in 2019, according to the BP Statistical Review of World Energy. And the price of polyester and polypropylene is also rising as a result of this volatility in crude oil prices. The volatility in crude oil prices leads to fluctuation of raw materials prices, which is expected to be a significant challenge for the plastic films market manufacturers. Thus, the fluctuating raw material prices hinder the plastic films market growth.
Plastic Films Market Landscape
Technology launches, acquisitions, and R&D activities are key strategies adopted by players in the plastic films market. Major players in the plastic films market are Toray Industries, Inc., DuPont, Amcor plc, Vibac Group Spa, Chrystal Plastic S.A.S., Carmel Olefins Ltd., Honeywell International Inc., SABIC, Taghleed Industry, Saudi Basic Industries Corporation, Novolex, Innovia Films, Polyone Corporation, and Sealed Air.
Acquisitions/Technology Launches
In September 2020, SABIC has introduced a sustainable frozen food packaging solution that blends a new grade of polyethylene (PE) with advanced film production technology. It provided significantly higher performance compared to traditional blow PE film solutions, making it appealing from both a commercial and sustainability point of view.
In August 2020, the reLife inter-segment portfolio of recycled polypropylene materials designed for a variety of applications was introduced by Taghleed Industries (Ti). Promoting the circular economy by which the amount of plastic waste that could theoretically end up in the ocean and by saving scarce fossil resources is the central value of the new collection.
In June 2020, Innovia Films released Encore, a new family of recyclable BOPP (Biaxially Based Polypropylene Films) films. The range was made from organic, non-food-based raw materials, according to the company, which helped minimize the use of fossil-based virgin raw materials.
Key Takeaways
Asia-Pacific dominates the plastic films market, owing to the increasing healthcare investments by the government in the region. For instance, in 2018, the Australian Government invested around US$1.3 billion in the Health and Medical Industry Growth Plan.
Plastic films are extensively used in agricultural activities to cover the soil to save water for irrigation purposes. The application of plastic sheets on farms saves irrigation costs, thereby proving itself as an effective cost saver.
Widespread use of plastic films in consumer goods such as packaging of cosmetics, shampoo, personal hygiene products, dish and laundry detergents, and household cleaners is also anticipated to drive the plastic films market growth.
Relevant Reports:
A. Plastic Films & Sheets Market
https://www.industryarc.com/Research/Plastic-Films-Sheets-Market-Research-500307
B. Plastic Additives Market
https://www.industryarc.com/Report/11654/plastic-additives-market.html
For more Chemicals and Materials Market reports, please click here
About IndustryARC: IndustryARC primarily focuses on Cutting Edge Technologies and Newer Applications market research. Our Custom Research Services are designed to provide insights on the constant flux in the global supply-demand gap of markets. Our strong team of analysts enables us to meet the client research needs at a rapid speed, with a variety of options for your business. Any other custom requirements can be discussed with our team, drop an e-mail to sales@industryarc.com to discuss more about our consulting services. 
Media Contact
Company Name: IndustryARC
Contact Person: Mr. Venkat Reddy
Email: Send Email
Phone: (+1) 970-236-3677
Address:Madhapur
City: Hyderabad
Country: India
Website: https://www.industryarc.com/