Digital magazine publishing is convenient for everyone concerned. FlipHTML5 is one of the best ways to take advantage of this genius method of publishing.
(PRUnderground) October 13th, 2021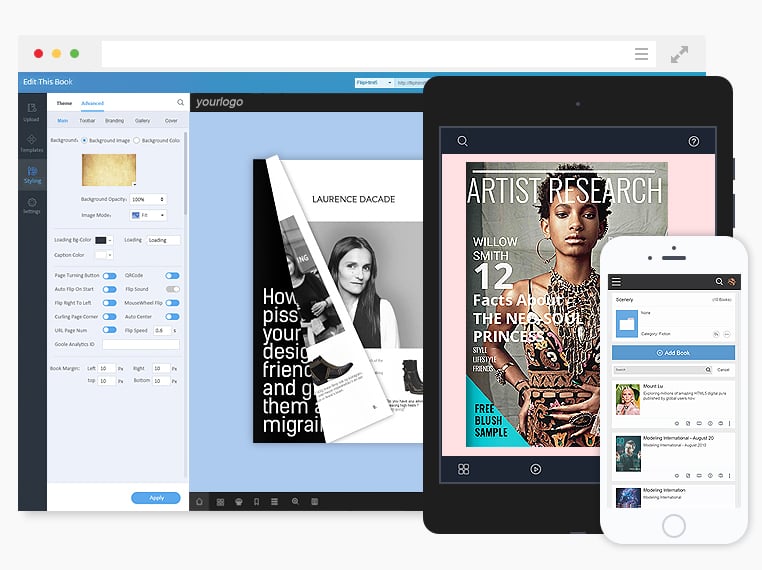 Digital magazine publishing makes life more convenient for publishers and readers alike. Today's fast-paced society makes digital publications almost a necessity as people want to access information on the go. Digital magazines are also more interactive, providing a more fulfilling reading experience. FlipHTML5 provides a fast and easy way to produce digital publications. It's easy to use and requires no downloads. It's not just for creating, but also for distributing digital magazines.
"Digital magazine publishing is the future," says Jackie Peng, Customer Service of FlipHTML5. "And we're here to help you step into it."
FlipHTML5 offers professional results for digital magazine publishing. There are several themes and templates available that make the process simpler, especially for publishers who lack experience in the digital world. All the templates are fully customizable so each magazine has its own distinct appearance. The platform is very easy to use. It automatically converts PDF files to HTML5 format for smooth digital publishing.
One advantage that digital magazine publishing has over traditional publishing is the ability to bring content to life. Flipbooks made with FlipHTML5 are not limited to text and images. Publishers can add audio, video, animation, and hyperlinks to their magazines. And it can be done entirely in their browser. This opens a whole new world of possibilities that a printed magazine cannot offer.
Social media is quickly becoming the hub for advertising and the general sharing of information. With digital magazine publishing from FlipHTML5, social media can be a publisher's playground. FlipHTML5 makes it easy to publish content on social media as well as via email and messaging apps. Each magazine generates a URL that is easier to share anywhere than a standard PDF file. Publishers can also enable the share feature within the magazine so readers can quickly share it on their social media pages.
FlipHTML5 offers secure cloud storage as part of their digital magazine publishing. The virtual bookshelf and e-commerce features make storage and distribution a breeze. And publishers don't need to be concerned with the logistics associated with a printed magazine. SEO options are also available to ensure that target audiences can find publications easily on search engines. The magazines can be read on all modern browsers, Android, and iOS devices.
Learn more about digital magazine publishing, please visit FlipHTML5.
About FlipHTML5
FlipHTML5 Software Co. Ltd. is a world leading provider of digital publishing software. For many years, They have focused on the research and development of outstanding range of e-publishing software for users around the world. Furthermore, they offer customized solutions for publishers in different industries.
The post FlipHTML5 Makes Digital Magazine Publishing Easy for Everyone first appeared on PRUnderground.
Press Contact
Name: Michelle Fisher

Phone: +86 020-61972665

Email: Contact Us

Website: http://fliphtml5.com/
Original Press Release.