An online magazine is more convenient than a printed one for publishers and readers alike. FlipHTML5 is the best way to create and read online magazines.
(PRUnderground) October 28th, 2021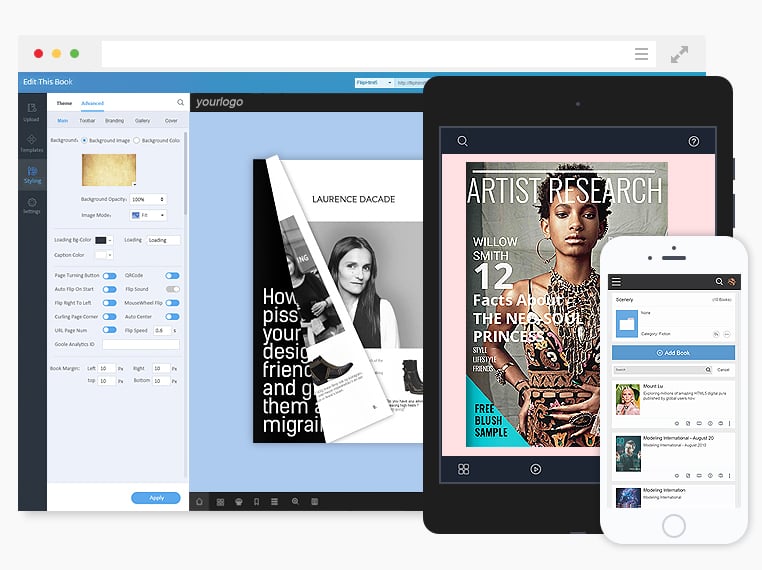 Magazine readers are no longer interested in carrying printed publications around with them. With advances in technology putting information at their fingertips, they'd much rather read an online magazine. In reality, an online magazine has advantages for both readers and publishers. And FlipHTML5 is the place for both. It's not only ideal for creating an online magazine, but it's the perfect way for readers to access all their favorite publications while on the go.
"An online magazine is so much more convenient in this day and age," says Jackie Peng, Customer Service of FlipHTML5. "We make it easier for publishers and readers to access this resource."
FlipHTML5 can be used to create any type of online magazine. The process is as simple as uploading a PDF version of the magazine and FlipHTML5 will automatically convert it to an interactive flipping online magazine. The publisher can choose to publish the online magazine as-is or customize it to make it even more appealing. There are many templates and themes to choose from and they all guarantee a professional online magazine. What's more, there's no need to worry about printing and distribution costs and logistics.
Printed magazines are limited. They can only display text and images/illustrations. With an online magazine, the reading experience is elevated. Publishers can add videos, audio, animations, and links. Readers can watch that cooking demo instead of just reading a recipe; they can listen to that new song while perusing the magazine instead of just reading a review. Advertisers can add links to their product and sales pages that make it easier for readers to purchase.
FlipHTML5 also offers online hosting so publishers can publish their online magazine if they don't have a website. Millions of readers go to FlipHTML5 to read their favorite online magazine. Plus, the magazines can be shared via email, messaging apps, and social media using the URL that each online magazine generates. There's also an embed code available so the online magazine can be embedded in websites.
An online magazine created with FlipHTML5 can be read on browsers as well as on both Android and iOS mobile devices. Readers can add notes and annotations and choose whether the online magazine flips horizontally or vertically.
To learn more about FlipHTML5's online magazines, please visit FlipHTML5.
About FlipHTML5
FlipHTML5 Software Co. Ltd. is a world leading provider of digital publishing software. For many years, They have focused on the research and development of outstanding range of e-publishing software for users around the world. Furthermore, they offer customized solutions for publishers in different industries.
The post FlipHTML5 Offers Online Magazine Publishing Solutions to All first appeared on PRUnderground.
Press Contact
Name: Michelle Fisher

Phone: +86 020-61972665

Email: Contact Us

Website: https://fliphtml5.com/
Original Press Release.