Maropost, leader in the ecommerce and multi-channel marketing software, partners with GetUWired, a thriving internet marketing and automation powerhouse, to help businesses find tools that will help them grow faster.
(PRUnderground) November 16th, 2021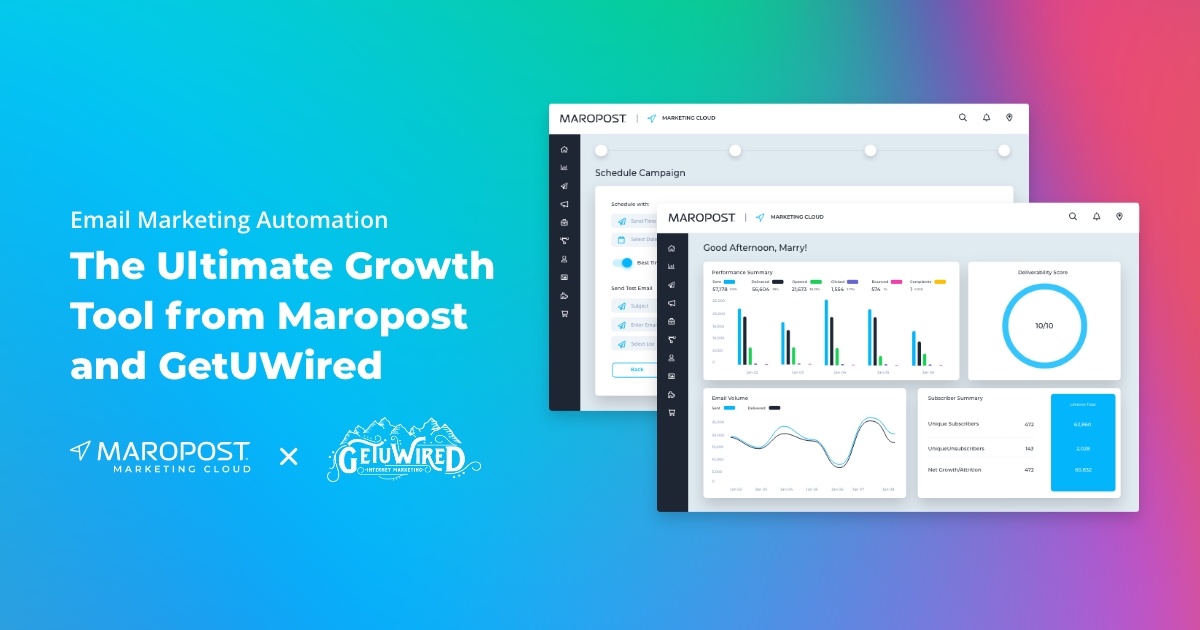 GetUWired is a proud small business on a mission to help other businesses thrive. They are so dedicated to staying small and true to their values that they chose a cabin in the woods as their headquarters!
Starting small doesn't mean having small goals, slow growth or little potential. Quite the opposite! GetUWired helps business owners open their horizons and pursue crazy dreams. One way they're doing that is through the partnership with Maropost.
"Maropost is the most trustworthy email marketing automation platform for large volume campaigns and strategies. Their team is second to none in regards to communication and support. We graduate our most successful Agency Retainer Clients into Maropost because our team fully understands the software and our clients love the results and detailed reporting we extract from our efforts!" – says Dobbin Buck, CEO of GetUWired.
This partnership is really aimed at helping businesses see their own potential and graduate to a software that can accelerate their growth.
"We're delighted to know that GetUWired trusts us to grow their highest level retainer clients through our robust email marketing solution. Maropost can not only handle high volumes without constant compliance issues but can also give access to detailed metrics around all the marketing efforts! Maropost is really unique in many of its advanced features. Once a marketer gets inside, they can truly experience the magic!" – says Cory Snyder, VP of Channel Sales at Maropost.
Sooner or later, the time for change arrives. The faster businesses switch to a platform that can grow with them and won't limit them, the quicker they can reach new heights. That's where Maropost and GetUWired come in.
About GetUWired
GetUWired is a full service Digital Marketing Agency that has successfully been in business over 15 years.  GetUWired has over 50 full time team members that are local to their headquarters in North Georgia.  The agency continues to work with today's top influencers and SMBs across North America and is widely known for the rustic cabin-like headquarters in Dahlonega GA!
About MAROPOST
Maropost is on a mission to revolutionize the way Marketing and eCommerce Automation work together.
By providing companies with Marketing Cloud and Commerce Cloud, Maropost allows B2C organizations to streamline their audience engagement, customer acquisition and revenue growth. The company serves customers across multiple channels, such as email and mobile/SMS marketing automation and ecommerce, while providing unparalleled inbox deliverability, advanced reporting and industry-leading audience building and customer journeys.
Founded in 2011 by Ross Andrew Paquette, Maropost has been featured in Deloitte's Technology Fast 500 list multiple years in a row and recognized over the years as the best way to simplify marketing automation, by also adding advanced ecommerce functionalities.
For more information, please Visit Maropost.com!
The post Email Marketing Automation: The Ultimate Growth Tool from Maropost and GetUWired first appeared on PRUnderground.
Press Contact
Name: Jacopo Mauri

Phone: 1.888.438.3152

Email: Contact Us

Website: https://www.maropost.com
Original Press Release.