How Much Should Your Clients' Portfolios Allocate to Crypto?
February 23, 2022 at 11:52 AM EST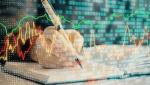 Most advisors at this point have encountered questions regarding crypto from their clients. With increasingly greater adoption by institutional investors, the industry is slowly coming around to acknowledging that crypto investment is most likely here to stay and beginning to grapple with how to...