Flexaago's Newest Model is Classic, Timeless, and Setting a New Industry Standard of Unparalleled Quality
(PRUnderground) May 2nd, 2022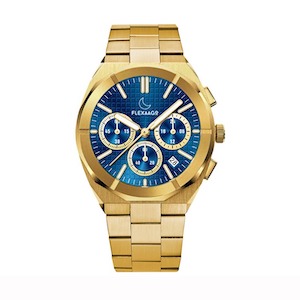 It is no secret that men's luxury fashion is a step behind women when it comes to balancing quality and affordability, especially as it pertains to watches. For decades the main offerings for men have consisted of name brands at incredulous prices or cheaper brands that lack quality. San Diego's premiere wristwatch company, Flexaago is on a mission to bridge the gap and breathe new life into the industry. Introducing the Manawa Watch, Flexaago's latest men's watch set to usher in a new era of luxury at an affordable price.
Rooted in the belief that time is priceless, and accomplishments should be cherished and celebrated, Flexaago's mantra is "it's your time; flex it." Translating as the Hawaiian word for 'time', the Manawa watch is designed to encompass the vast beauty of the Pacific, from the blue waters and the golden sands to the silvery shimmers of the stars.
Powered by the incredibly accurate Japanese VD 53 movement, with performance displayed spectacularly through the intricately decorated 42mm dial with a delightful box graph pattern, the Manawa adds a tropical touch to the luxurious chronograph.
Manawa chronograph comes with an extremely tough sapphire crystal glass and locking crown with complete 5ATM water resistance. The timepiece is a perfect companion to style any occasion or adventure with contemporary class. Available in both gold and silver 316L stainless steel, the Manawa boasts unmatched quality at an unbeatable price, effectively setting the new industry standard for men's luxury wrist wear.
Through proof of concept, dedication to the craft, and unwavering commitment to providing luxury watches at affordable prices; Flexaago's purpose-driven vision has come to fruition with the release of the Manawa.
To learn more about the Manawa watch and Flexaago, please visit: https://flexaago.com/products/manawa
About Flexaago
Flexaago is a contemporary wristwatch brand based in San Diego, California. Founded in 2020, Flexaago was created as a legacy to the Founder's childhood friend Obinna who passed from cancer in adolescence. Flexaago is rooted in the belief that watches are the perfect rewards for unbeatable work and play ethics and for all successes chalked in one's lifetime. Whether it's a job promotion or a newly acquired dream home, Flexaago is empowering customers to be proud of their accomplishments, and that is why they say, "it's your time; flex it." A fraction of each purchase on our website goes to charity efforts across the globe.
The post Time for a Change: Flexaago's Manawa Watch Ushers in a New Era of Luxury in Men's Accessories first appeared on PRUnderground.
Press Contact
Name: Support

Phone: 619.323.1490

Email: Contact Us

Website: https://flexaago.com/
Original Press Release.