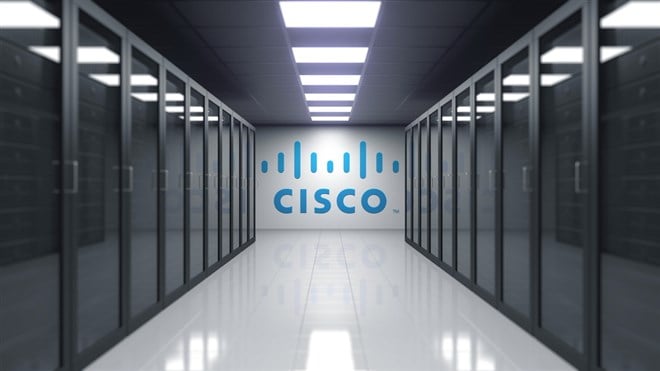 Cisco Systems Inc. (NASDAQ: CSCO) has a place on MarketBeat's Dividend Achievers list of stocks, increasing their payout for at least the past 10 consecutive years.
Although it's a well-established company, Cisco is not resting on its laurels. It's developing robust technologies in the areas of AI and machine learning.
It's taking an approach that goes beyond selling networking gear and toward a more holistic model for today's businesses that need a range of digital connectivity services. Cisco is addressing the needs of various functions for buyers of its gear, including serving their customers, gathering data, and communicating with their workforces. 
 The company reports its fiscal second quarter on February 15 after the close, with analysts eyeing a net income of $0.76 a share on revenue of $13.42 billion. That would be a year-over-year decrease on the bottom line but an increase on the top line. 
Since early December, Cisco has been forming a flat base with a potential buy point shy of $60. Its correction so far has been only 10%, suggesting that investors keep the stock in a holding pattern ahead of earnings. There may also be some profit-taking following a rally of 31.40% between mid-October and mid-December. 
It might appear that Cisco's chief line of business, networking and server gear, has become commoditized, as Cisco has some significant rivals, including Juniper Networks Inc. (NYSE: JNPR) and Extreme Networks Inc. (NASDAQ: EXTR).
Even so, stock researcher Morningstar includes Cisco in its "wide moat" category of companies with a strong competitive advantage. 
 Rivals Also Growing Earnings 
Both Cisco and Juniper have been trending essentially sideways recently. Both have been growing earnings in seven of the past eight quarters, each showing a year-over-decline two quarters ago. 
At the time, global factors such as the continued Covid lockdowns in China and their ensuing supply chain woes, as well as component shortages and rising inflation, resulted in slower-than-anticipated growth. 
Extreme Networks, whose stock took a hit after its most recent earnings report, but has made up some of that lost ground, faced the same issues in mid-2022. However, its earnings growth bounced back to 26% most recently. The stock declined despite the company beating views and issuing a bright outlook, perhaps because some investors were expecting a "whisper number" or an earnings beat even more than what occurred. 
Juniper and Extreme are smaller than Cisco, with the ability to pivot faster than a large, established corporation that tends to turn like the proverbial ocean liner. Within the computer networking industry, Cisco's market cap is more than five times the size of the second-largest company, Arista Networks Inc. (NYSE: ANET). 
Adapting To New Realities
But Cisco's size and endurance through so many market cycles and technological developments is also advantageous: It focuses on retaining long-standing enterprise customers and has systems specifically to address that challenge. 
Analysts expect the company to continue growing at a steady pace, anticipating earnings growth of 6% this year and 8% next year. 
Regarding its dividend, Cisco's current yield is 3.14%, and it's increased its payout in the past 12 years. The company has also returned capital to shareholders in the past three years with a share buyback program. Its current buyback yield is 4.03%. 
So where does this leave potential buyers ahead of Cisco's second-quarter report?
Numerous companies from various industries are reporting that supply-chain problems are easing. In particular, the company said last year that it expects the well-documented global chip shortage to have less impact in 2023.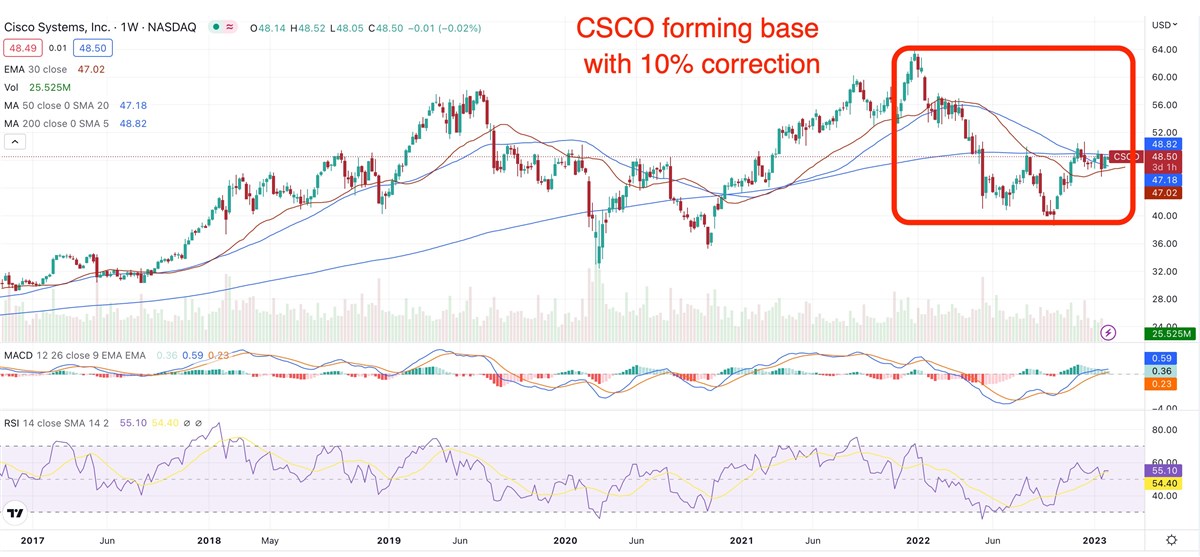 Analysts currently have a "hold" rating on the stock, according to MarketBeat data. The consensus price target is $53.95, with a potential upside of 11.46%. 
Since mid-2019, investors haven't missed out on many gains by waiting until after earnings to jump in. The earnings report has often been a catalyst for a downturn that precedes a fresh uptrend, meaning recent buyers would have either gotten shaken out or would have been content sitting through a correction in Cisco.