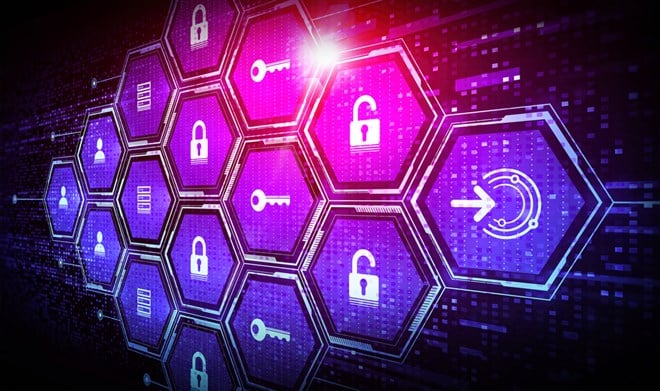 The S&P 500 tech sector is up 18.65% in the past month, with sector component Fortinet (NASDAQ: FTNT) gapping up 12% on February 8. 
The cybersecurity specialist was the sector's best price performer in the session, with SolarEdge Technologies Inc. (NASDAQ: SEDG), First Solar Inc. (NASDAQ: FSLR), CDW Corp. (NASDAQ: CDW), and Arista Networks Inc. (NYSE: ANET) also among biggest gainers.
Fortinet gapped higher following better-than-expected guidance for the current quarter. 
MarketBeat's list of stocks gapping higher is a great place to scan for ideas. A gap up is almost always accompanied by heavier-than-normal trading volume. A gap higher signals that big institutions have enough conviction in the stock to bid up the price significantly, all at once. 
Other techs gapping up on February 8 included fellow cybersecurity company Palo Alto Networks (NASDAQ: PANW), which was up 4.32% mid-session, in double average volume for that time of day.
Palo Alto Networks is not a component of the S&P 500, even though its market capitalization of $49.93 billion certainly qualifies, the stock is part of the Nasdaq 100 index. That index is tracked by the Invesco QQQ Trust (NASDAQ: QQQ), which has advanced 15.28% in the past month.
Industry Peers Also Higher
There was no company-specific news about Palo Alto, but it's not unusual to see similar stocks within an industry behave in the same way. After Fortinet's rosy guidance, the industry, as a whole, gapped up at the open on February 8. 
That can happen when the industry's largest stocks, Fortinet, Palo Alto Networks, and Crowdstrike Holdings Inc. (NASDAQ: CRWD) all gap higher. 
Crowdstrike was up 1.83% in heavier-than-average volume mid-session.
While it's easy to lump all of "tech" together as a beaten-down sector, that assumption appears to be outdated. Tech companies as a whole were especially disappointing in 2022, after sector performance more than doubled in the past five years, and rewarded investors with sky-high returns during the pandemic. 
As many newer techs opt for sales growth over profitability, higher interest rates take a toll. When companies issue debt to finance projects, higher rates make it more difficult to service the debt, taking a bigger chunk out of operating revenue. 
Compounding the problem for the sector as a whole, a higher U.S. dollar, relative to other currencies, means prices are effectively rising for international customers. That puts a damper on growth. 
Demand For Cybersecurity
However, Fortinet's guidance made clear: Cybersecurity is a corner of the tech world that is seeing high demand amid growing concerns about network breaches.  
Even with the post-earnings price action, Fortinet is still attempting to claw its way out of a consolidation that began in January 2022. 
It's clear that the overall tech sector is beginning to climb out of a hole, as you can see on a chart for the Technology Select Sector SPDR Fund (NYSEARCA: XLK). 
It will take some time for the broad sector to rally. Its largest component, Apple Inc. (NASDAQ: AAPL) was tech's biggest decliner, in terms of market capitalization, in 2022. Because of its heavy weighting not only within the tech sector but within the S&P 500, its performance will continue to affect the sector as it, too, attempts to claw its way higher. 
Earnings reports are frequently the catalyst for a stock, or as we've seen with cybersecurity names, an entire industry, to notch a big move in either direction. 
Palo Alto Networks is slated to report its fourth-quarter results on February 21, after the closing bell, with Well Street eyeing earnings of $0.78 a share on revenue of $1.65 billion. MarketBeat earnings data for the company show that it topped net income and sales views in the past two quarters.
CrowdStrike next reports on March 7, after the close. Analysts expect a loss of $0.16 a share on sales of $625.10 million. MarketBeat analyst data for CrowdStrike indicate bullishness: Analysts have a "moderate buy" rating on the stock, with a price target of $182.47, representing an upside of 56.90%.