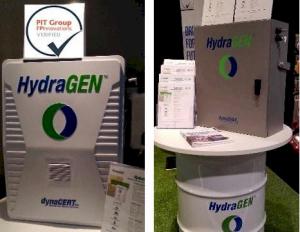 Pit Group Certified HG1 Unit in polymer case (left), rugged case (right).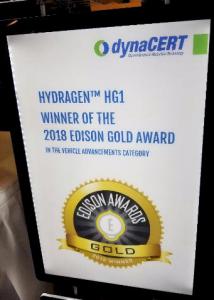 dynaCERT is 2018 Gold winner of Edison Award
dynaCERT Inc. (TSX-V: DYA)(OTCQB: DYFSF)(Frankfurt: DMJ) HydraGEN technology is the Gold Medal winner of the prestigious 2018 Edison Award for Best New Product.
dynaCERT Inc. (TSX:DYA)
The share price of dynaCERT Inc. (TSX-V:DYA) is apt to rise as a plethora of new relationships mature over the coming months and the sales growth trajectory for dynaCERT's HG technology accelerates."
— Market Equities Research Group
NEW YORK, NY, UNITED STATES, October 1, 2018 /EINPresswire.com/ -- dynaCERT Inc. (TSX-V: DYA) (OTCQB: DYFSF) (Frankfurt: DMJ) is on the launch pad as its new HydraGENTM (HG) Carbon Emission Reduction Technology is finally garnering the attention needed for sales to take-off. Investors would do well to familiarize themselves with the massive global market that will benefit from HG technology, the quality margins for the Company, and the revenue potential as matters accelerate. This September-2018 Mercedes Benz, Volkswagen, ManTruck, Volvo, Freightliner, and other OEMs met with dynaCERT sales and engineering team expressing great interest in HG technology enabling them to meet stricter upcoming European CO2 regulation standards. The OEM discussions also included opportunities to consider the aftermarket sales of HG technology through the respective current dealer networks of OEMs. Sales for dynaCERT will take a dramatic leap as a plethora of new relationships mature over the coming months.
Already dynaCERT has reported global installations of its new HG1-45 models for diesel truck engines are "advancing very successfully". On September 24, 2018 the Company gave an update entitled "dynaCERT Offers a Solution to 2019 European CO2 Regulations" whereby European homologation (validation) testing is complete and the results made dynaCERT the talk of show at the IAA Commercial Vehicles International Exhibition in Hanover, Germany (September 20 to 27, 2018), where dynaCERT held its official product launch for Europe. The Company has provided a synopsis of the European homologation results, they are extremely positive; results include a 8.9% improvement in fuel consumption, a 8.7% reduction in CO2, a 88% reduction in NOx, a 52% reduction in Total Hydrocarbons (THC), a 54.5% reduction in Particulate Matter (PM) and a 74.3% reduction in Particulate Number.
The TUV homologation test were conducted under the requirement for Homologation to obtain an Allgemeinebetriebserlaubnis (ABE), the German Transport regulatory license that is required for any equipment used on on-road vehicles in Europe. The finalization of official ABE certification is expected near-term.
20.1% fuel savings on long haul truck: Noteworthy excerpt from the Sept. 24, 2018 release, "While the dynamometer test showed a 8.9% fuel savings, separately, during the on-road break-in period after the baseline test, the on-board diagnostic (OBD) record of the 2018 MAN TGX 18-460 long haul truck with an HG1-45B showed a 20.1% average fuel savings for the 188 hours of tests, travelling through the mountainous terrain of southern Germany in a heavy load commercial operation."
As the trajectory for HG unit sales accelerates it won't take long for the economics to flourish, especially considering the healthy gross profit margins per unit and the fact there is a market with desperate need globally for millions of HG1 units (for diesel truck engines) and HG2 units (for refrigeration containers), capable of drastically cutting greenhouse gas emissions, all while saving fuel.
The Company is positioned to meet accelerated demand. Production of the different HG1 series models is underway with the current capacity to build HG1 units at 6,000 units per month. Production of the HG2 series models is soon to be operational with new specialized robotic laser-welding equipment to facilitate production. Future capacity to produce HG2 units is planned to reach 10,000 units per month.
The Company is also engaged in plans to tackle the marine, rail, and power generation market in a major way.
The following URLs have been identified for further DD on dynaCERT:
Company website: https://dynacert.com
Recent Technology Journal Review:
http://www.technologymarketwatch.com/dya.htm
Articles, excerpts, commentary and reviews herein are for information purposes and are not solicitations to buy or sell any of the securities mentioned.
Fredrick William
Market Equities Research Group
8666209945
email us here
dynaCERT CEO Interview regarding insight and opportunity, CEO of the year Award