08/26/2021, Chicago, IL // PRODIGY: Feature Story //
The Windy City's #1 hip hop radio station, Power 92 on 92.3 FM, will start airing two different Insurance Navy ads during commercial breaks throughout the week. The insurance agency, on its way to becoming Illinois' top provider, has secured airwaves with the station based in Hammond, Indiana, as the effort to normalize their presence in Chicago amid a change to Illinois insurance verification laws grows.
"The Illinois Secretary of State is now automatically certifying that all drivers now have the required basic coverage. They've been using their new database, ILIVS, and work with insurance companies like ourselves so our policyholders don't have to call anyone or do anything," says Insurance Navy CEO Fadi Sneineh, "If you're found driving without auto insurance, fines can go up to $400. We've rolled out our $29, $39, and $79 down payments and affordable monthly premiums for SR22, basic coverage, and full coverage respectively, so everyone is verified and has the proper insurance at a low cost for every kind of policy shopper. And, much like our business practice, our radio ads also help educate the casual listener to the sometimes complex world of insurance."
Insurance Navy Brokers
In addition to providing awareness to the ILIVS system that has been in use since July 1, Insurance Navy's other on-air ad is directed at those who drive without insurance and new drivers looking to purchase their first policy. Sneineh likens them as the auditory companion piece for the company's billboards present all around the Chicagoland area.
"That's what is going great about Insurance Navy - that the average passerby is able to come in and leave with an insurance policy. Buying something that is expected of you shouldn't be a frivolous purchase or a hassle. It should be as easy as a trip to the convenience store. That's what we try to convey with our billboards and radio spots." Sneineh said.
Insurance Navy has future plans to contact more prominent radio stations in Chicago for more advertising opportunities. The spots would feature more of the insurance policies they specialize in and on the services they offer. Soon, they'll begin regularly advertising their SR22 coverage, homeowner's insurance, business insurance, and so much more policies for every avenue of life.

About Insurance Navy Brokers 
Insurance Navy is a provider of non-standard auto insurance, selling products in over 30 storefronts, a call center, and online (www.insurancenavy.com) in Illinois, Indiana, Wisconsin, Texas, and California. In addition to auto insurance, the company sells other financial products and services, including homeowners insurance, renters insurance, and roadside assistance.
###
Contact Information: 
Insurance Navy Brokers 
Address: 4837 North Kedzie Avenue, Chicago, IL, 60625
Phone: (773) 478-3700
Wicker Park, IL Location: https://www.insurancenavy.com/locations/il/albany-park/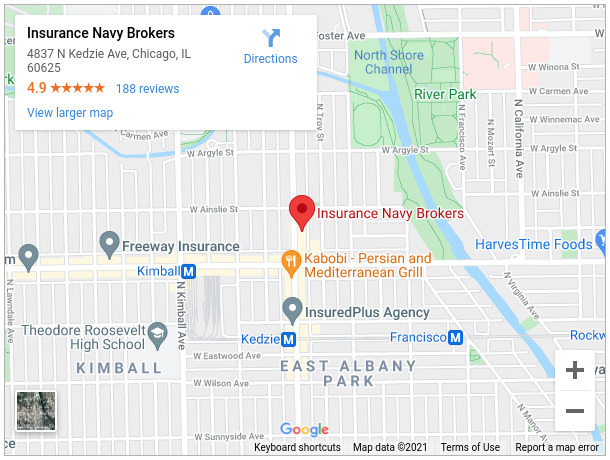 News by: news.38digitalmarket.com

Source: 38 Digital Market News
Release ID: 27603
Original Source of the original story >> Chicago's Power 92 to Air Insurance Navy Ads
Content Disclaimer:

DISCLAIMER of Liability. IN NO EVENT SHALL OUR PR COMPANY BE LIABLE OR RESPONSIBLE TO YOU OR ANY OTHER PERSON FOR ANY DIRECT, INDIRECT, INCIDENTAL, CONSEQUENTIAL, SPECIAL, OR EXEMPLARY DAMAGES OF ANY KIND, INCLUDING WITHOUT LIMITATION, LOST PROFITS OR LOST OPPORTUNITIES, EVEN IF ADVISED OF THE POSSIBILITY OF SUCH DAMAGES IN ADVANCE AND REGARDLESS OF THE CAUSE OF ACTION UPON WHICH ANY SUCH CLAIM IS BASED, INCLUDING, WITHOUT LIMITATION, ANY CLAIM ARISING OUT OF OR IN CONNECTION WITH ANY OF THE CONTENT, INCLUDING, WITHOUT LIMITATION, AUDIO, PHOTOGRAPHS, AND VIDEOS, OR OF THE ACCURACY, RELIABILITY, OR LEGALITY OF ANY STATEMENT MADE IN OR OMITTED FROM ANY advertisement, sponsorship, endorsement, testimonial, opinion, or other product-related or service-related statement or review appearing in the Websites or in ANY post or article distributed via the Websites.