09/09/2021, Springfield, MO // PRODIGY: Feature Story //
Brian Williams Custom Homes is a brand known for their custom homes in Springfield MO that are built in just 4-5 months. Due to the recent demand in projects and their growth in business, the company has decided to expand services to the Greater Springfield/Branson area. They offer a plethora of services including custom new home construction, light commercial construction, bathroom and kitchen remodeling, general contractor services, barns and outbuildings, custom built sheds and garages, and various other turnkey projects. There are very few construction companies that stick to the timelines and this is one of those very few. They establish solid expectations as well as timelines so that the clients can plan to settle down in their new place. They are fast, reliable and conduct their operations with the utmost integrity.
BrianWilliamsCustomHomes.com offers detailed information on all the services offered. Customers can also remodel their entire home or a single room with the help of the design experts available here. From bathroom remodeling to kitchen, roofing to siding, the contractors here have the expertise to handle any kind of small, medium or large home remodeling projects. And for those who are out of ideas or who want to give their homes a functionally aesthetic touch, the design experts come with fresh remodeling ideas. Homeowners can renovate their house so that it is not only efficient but beautiful as well.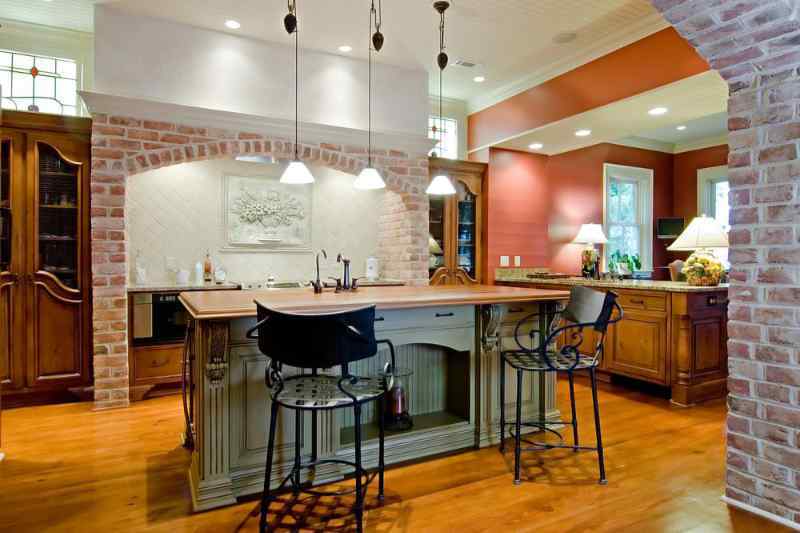 Brian Williams Custom Homes
Brian Williams Custom Homes in Springfield MO is a one-stop shop for all kinds of remodeling projects. Their kitchen remodeling designs are second to none. Homeowners wish to remodel their kitchens for a variety of reasons. While some want more cooking and prep space, others want a separate space for hosting. There are some who just want to expand their storage while others want everything from new flooring to ceiling. Whatever the reason might be, clients will always be a part of the process wherein the design experts and contractors share their ideas and include their clients' needs to make the dream kitchen come to life.
The same goes with bathroom remodeling where homeowners can give a refreshing new look to their old bathrooms. The home improvement and remodeling experts offer fresh ideas and input that make bathrooms look elegant and more functional than before. Exterior remodeling projects such as new porches, decks, entryways, room additions, garage extensions and many other services are offered here, as well. The company has been building energy-efficient homes for many years now. Apart from contributing to 70% higher energy efficiency, these homes also have an increased resale price. Brian Williams Custom Homes in Springfield MO takes pride in their team of Amish home builders who are also experts in turnkey projects starting from foundation to roofing, and ensuring the entire construction is executed with extreme professionalism.
To learn more visit https://brianwilliamscustomhomes.com/
About Brian Williams Custom Homes
Brian Williams Custom Homes is a boutique home design company offering a full suite of design, construction, and home remodeling services. These custom home builders in Springfield MO have now expanded their services to the greater Springfield/Branson area.
###
Contact
Brian Williams Custom Homes
Address: 399, Cobble Stone Drive, Seymour, Missouri 65746
Phone: 417-245-0147
Website: https://brianwilliamscustomhomes.com/
Source: 38 Digital Market News
Release ID: 33077
Original Source of the original story >> Brian Williams Custom Homes Expands Services to Greater Springfield/Branson Area
Content Disclaimer:

DISCLAIMER of Liability. IN NO EVENT SHALL OUR PR COMPANY BE LIABLE OR RESPONSIBLE TO YOU OR ANY OTHER PERSON FOR ANY DIRECT, INDIRECT, INCIDENTAL, CONSEQUENTIAL, SPECIAL, OR EXEMPLARY DAMAGES OF ANY KIND, INCLUDING WITHOUT LIMITATION, LOST PROFITS OR LOST OPPORTUNITIES, EVEN IF ADVISED OF THE POSSIBILITY OF SUCH DAMAGES IN ADVANCE AND REGARDLESS OF THE CAUSE OF ACTION UPON WHICH ANY SUCH CLAIM IS BASED, INCLUDING, WITHOUT LIMITATION, ANY CLAIM ARISING OUT OF OR IN CONNECTION WITH ANY OF THE CONTENT, INCLUDING, WITHOUT LIMITATION, AUDIO, PHOTOGRAPHS, AND VIDEOS, OR OF THE ACCURACY, RELIABILITY, OR LEGALITY OF ANY STATEMENT MADE IN OR OMITTED FROM ANY advertisement, sponsorship, endorsement, testimonial, opinion, or other product-related or service-related statement or review appearing in the Websites or in ANY post or article distributed via the Websites.