4,350 or bust! 
That's the game for the S&P 500 this week but we're expecting the bust though raising the debt ceiling may buy us a week and passing the infrastructure bill may buy us a whole quarter before the inevitble correction completes itself.  So far, nothing has stopped us from moving down to our strong retrace line at 4,230, which is our next stop, if there is no intervention but, for the day, we're looking for a bounce back to 4,350, which is the strong bounce line off 4,230 – a fall we haven't even taken yet.
Very simply, per our 5% Rule™, if you fail to bounce over the bounce line for a level you haven't even fallen to yet – then you'll be seeing that level pretty soon!  That's how the failure at 4,440 tipped us off that we were going to make our next leg down last week and now, we're HOPING to bounce to a point almost 100 points below that or 4,230 – here we come!  
We are pre-market bouncy this morning at 4,310 but that's not impressive at all in the low-volume Futures.  Oil (/CL) is at $78.61 and I'm liking them short again below the $78.50 line with tight stops above but I'd rather see us go up to $80 first as that would be a fantastic short, lined up with $85 on Brent (/BZ), which is currently at $82.50 – I just don't think we're going to make it.  
Oil is at a 7-year high as OPEC wrapped up their meeting yesterday sticking with their slow, steady, 400,000 barrels per day increase in production for November, shrugging off pressure to move faster as oil markets around the World tighten up and supplies in Europe run short.  Europe is the wild-card as a natural gas shortage has caused more industrials to switch to oil and that's the only reason demand is up – nothing to do with an overall increase in demand which GS and other Manipulators are claiming is giving us a new paradigm.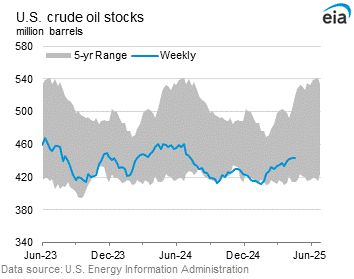 US Oil Stocks have bottomed out at 420Mb, at the same time as they bottom out every year and we're…