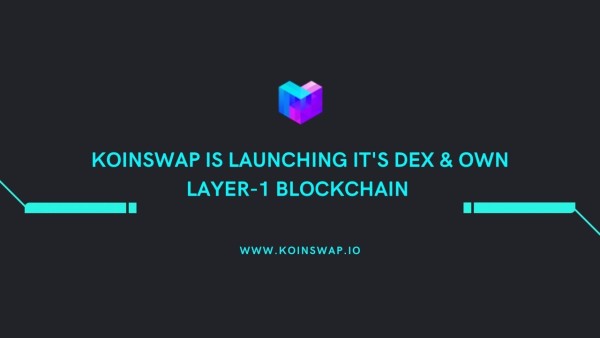 Koinswap, a decentralized crypto asset-swapping platform offering multiple services for digital asset trading. An airdrop of Koinswap is currently taking place. We have become the fastest growing community by reaching our community count to more than 625,000 sign ups within 2 months since its launch. Such a huge response shows the legitimacy, trust, authenticity, and the future of the platform. Airdrop will be followed by five Initial Coin Offering (ICO) rounds.
Key features of the Koinswap trading platform include: 
Easy leveraged trades where you can open long and short positions with up to 10x
Swap your favorite crypto assets effortlessly. Even a novice can do it easily with our simple swapping guidance
Deposit into the decentralized vault and lend your tokens to earn interest
Stake crypto assets to earn higher APY/APR
Stake LP tokens to earn KST
Provide liquidity and earn handsome rewards
According to roadmap koinswap is also jumping into NFT marketplace and KOINVERSE (Metaverse). This gives platform a huge boost up and makes it a strong contender in crypto world.
NFT marketplace will provide royalty to NFT artists who list their arts on koinswap NFT marketplace. But most interesting and unique is staking on NFT purchase. Every time one buys a NFT he/she will get staking on purchase/invested amount. This feature can compensate their future losses, which may happen due to NFT price drops.
Metaverse is an industry, which is making millions of dollars in volume with an enormous potential to grow in coming years. KOINVERSE will allow its users to access the METAVERSE technology with helping them to buy digital lands during the land sale program through KST Tokens.
Trading bot:
Making profit without having trading expertise or knowledge is not easy without having deep knowledge of the industry. User will have an advantage of trading their assets through KOINSWAP TRADING BOT. Bot works on trading algorithm to execute trades when required, thus, making profit maximum number of the time.
Koinswap ICO:
There are 5 rounds of ICO starting from August 16, 2022 and will end on September 15, 2022. This can be a biggest and one of the longest ICO 2022 in crypto industry.
Blockchain
With all the above planning and future growth prospects imagine having its own blockchain. Early you grab the opportunity to be a part of the community better are the chances to grow with it. the use case of the Blockchain technology in solving real world problems is what KST Development Team is working upon. Stay Tuned. There are lot of development and surprises coming your way!
About Koinswap
Koinswap is a decentralized crypto asset swapping protocol founded by an expert group of traders having an experience of more than 10 years in crypto and market making. The trading platform will go live soon according to roadmap.
Twitter: https://twitter.com/koinswap_io
Telegram: https://t.me/Koinswap_io
Media Contact
Company Name: KOINSWAP
Contact Person: Admin
Email: Send Email
Country: United Kingdom
Website: https://koinswap.io